Friday video: Aoshima Garuchan and Shakotan Boogie collection
Over the past years Aoshima has been releasing several Garuchan boxes containing 12 cars per box.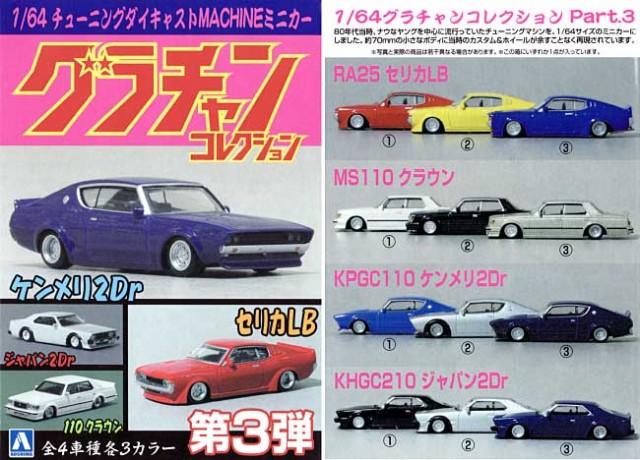 Each box contains four models with three different paintschemes and/or modifications and so far six different boxes have been released!
This guy has been collection them and shares them through Youtube:

The cars displayed here are mainly from the sixth box.
One more with the fifth collection:

And as a bonus not the same collection but also made by Aoshima: the Shakotan Boogie collection!

Unfortunately I haven't seen them available anywhere outside Japan (not even Hobby Link Japan!) and most of them have been sold out by now. It would be best to find them through Auctions Yahoo
Direct links to videos: ?????????????????6?+????SP ????????????4?(????)?1/64??? ??????(????????????????????)
This entry was posted in video and tagged aoshima, friday video, granchan, kaidou racers, shakotan boogie by banpei with