I found this video of a road racing meeting held somewhere in August this year. It has a lot of revving kaidou racers and zokushas with big and weird exhausts! So enjoy this orchestra of pistons:

by banpei with

After last weeks documentary on the Transfer Matyrs gang we have another documentary uploaded by 7000abcdefg.
This time the documentary is about the Gokuaku group and shot in their hideout during somewhere the 70s. What is great about this documentary is that 7000abcdefg used annotations to translate and explain everything about ranks, rules and backgrounds so you really get a good insight on the gang life.
There are some other really interesting documentaries on 7000abcdefg's page, but they have realy crappy sound. Either turn down your sound volume or just turn off your sound. 😉
by banpei with

Remember the Zokusha drift meeting? Well, the Toyota Chaser MX41 featuring in that video was caught in an AE86 focussed drifting session:

Enjoy over three minutes of almost endless tiresmoking! 🙂
And a second video of the same circuit during the rain (actually before the first video):

The Chaser did have an engine swap: the 2 liter 1M engine was swapped for a 1JZ-GTE. This gives the Chaser enough power to shake its tail all over this small circuit!
by banpei with

Remember one of the early deep dish postings about a set of vintage Racing Hart rims (mounted on a Toyota Mark II MX41 Hardtop Grande) for sale on Auctions Yahoo?
The seller has some new rims for sale: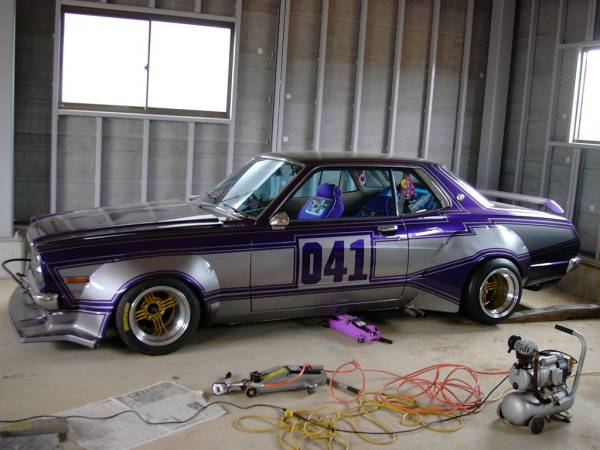 Techno Shadow 14 inch 13J rims on zokusha Mark II
In case you have noticed those enormous wide fenders: apparently those enormously wide 13J rims do fit in there!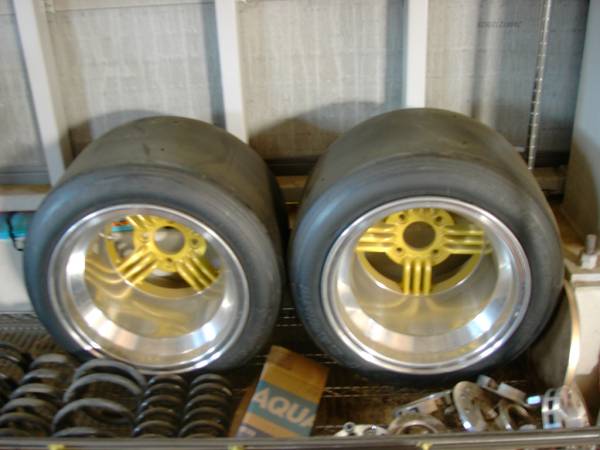 Techno Shadow 14 inch 13J rims on zokusha Mark II
Unlike the first picture suggests he is only selling a set of 2 rims. The rims have a bolt pattern of PCD 114.3. They are 14 inch in diameter, 13J wide and have an offset of -74. Amazing!
In case you are interested, you can find the action here. But beware: 13J rims are very rare and the current bid is already at $3200! Of course you can always use the buy me now option and pay $3800 and be sure that you have absolutely an unique and rare pair of rims under your car!
by banpei with
Funny we never posted this one: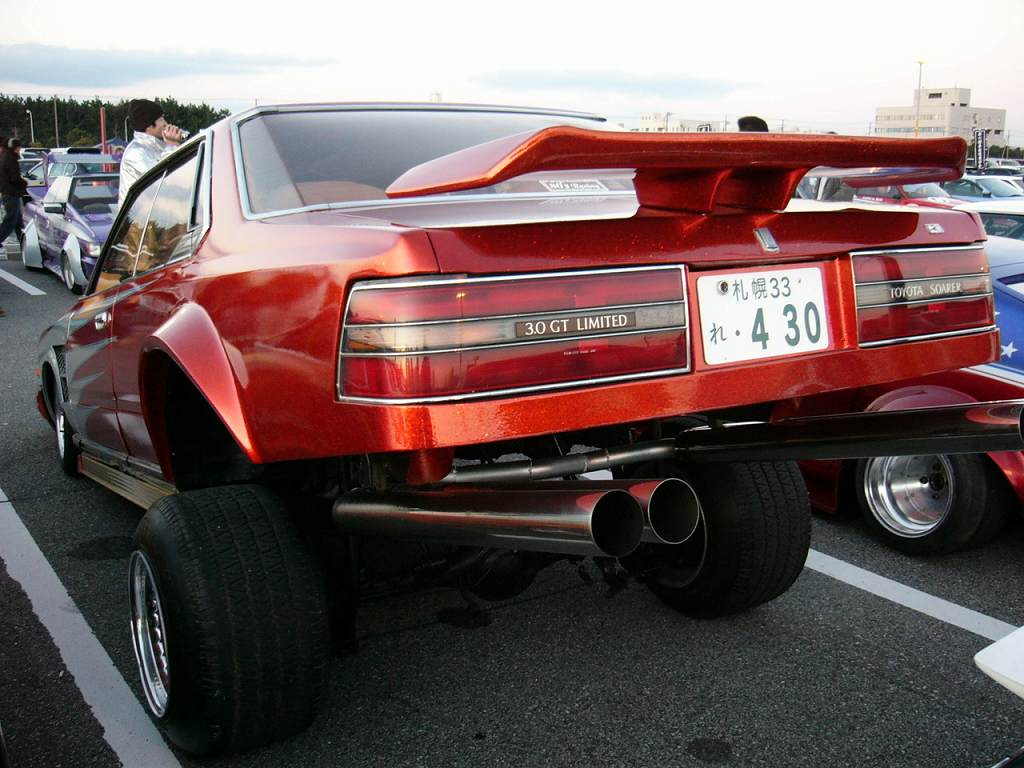 Team Madonna Gloria exhaust
The Team Madonna Exhaust is really a piece of art!
I saw on some other pictures it is actually a single pipe from the engine and splits into two separate parts at the left side of this picture!
by banpei with