I found this late 70s documentary about the Transfer Matyrs bosozoku gang on Youtube. It contains six parts and most of the documentary is about the life of the gang members!
Part 1:

Part 2:

Part 3:

Part 4:

Part 5:

Part 6:

The most striking thing was that I realized they are still driving the same old zokushas (Skyline C110 and C210, Laurel C130). The only difference is that nowadays those zokushas have a lot of FRP on it. 😉
by banpei with
I found this video about a bunch of bosozoku diecasts running away from the Japanese cops a lot of fun to watch:

The only thing it misses is music and sound effects! 🙂
The creator of the video (Ayrni4) made a lot of other videos like this, but most of them are not bosozoku related. Still, they are a lot of fun to watch! 😉
by banpei with
Welcome to the second part of the 2009 Shiraoi meeting video coverage! If you missed the first four videos posted in the previous part, you can find them here!
The fifth video begins good: with a shakotan C230 Cedric on the foreground, a grachan Celica XX and a Mark II with a peacock exhaust (takeyari) showing its tail feathers for a good 25 seconds!

In the sixth video more takeyari Mark IIs, a bunch of shakotan 910 Bluebirds and a grachan Soarer MZ10.
Read on for three more videos!

The seventh video gives you a good impression of the pitlane and the activity on the straight of the circuit:

And the eight and last video shows the Team Maddona Gloria next to another one. I'm getting a bit puzzled here: I already saw three Gloria Y30s on this meeting! Is this a new craze?

by banpei with
The sudden death decided! The most iconic bosozoku style wheel is:


Most iconic bosozoku style wheel: SSR mk1 14 inch 11J and wider!
The 14 inch SSR Mk1 with width of 11J and wider is clearly the winner!
Thank you all for voting! Next week we will start with the badboy zokusha shootout!
by banpei with
We have no idea what the purpose is of this streamlined exhaust if you have such a big wing at the back of the car: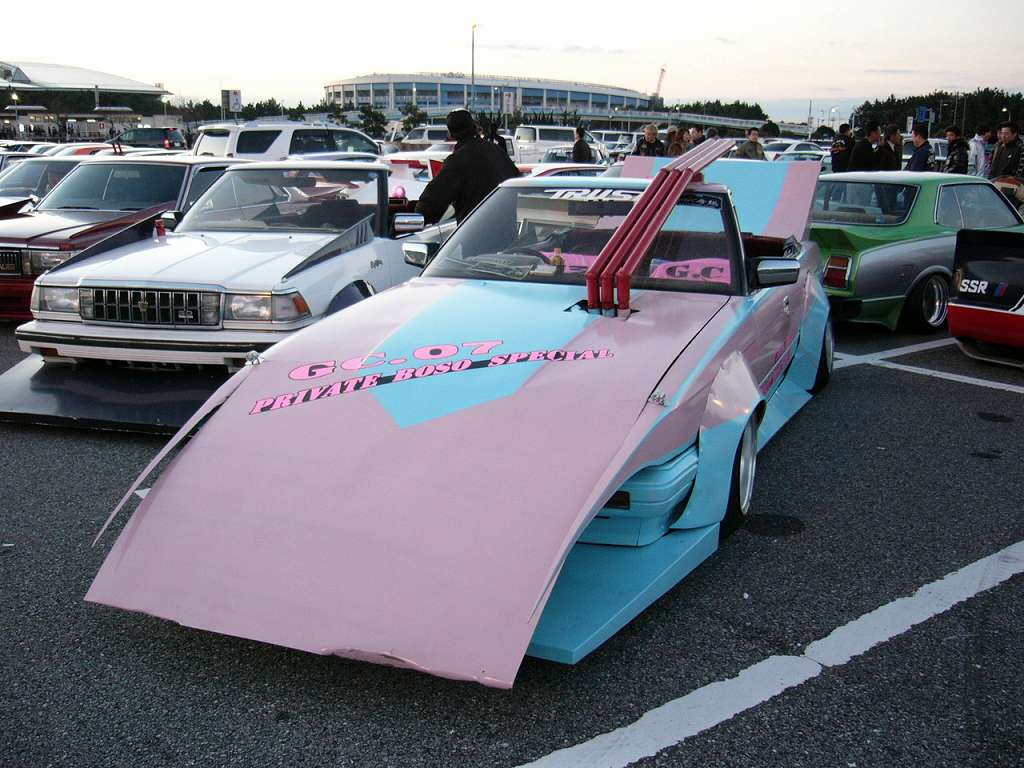 Fly over exhaust on Mark II
The exhaust looks like a fly over piping with its triple exhaust pipes.
It may be a bit uncomfortable for the passengers to get out on the passenger side of this car after driving this car for a while. I can imagine it will become something like limbo dancing to get out!
On the other hand you won't get cold driving to the Tokyo Auto Salon meeting in January!
by banpei with