Banpei already told me that the Cressida GX71 was not a Cressida but rather a Cresta. I don't see the difference anyway.
I thought it would be nice to show some more pictures and info about this car since it is my first blog posting.
The Cresta GX71: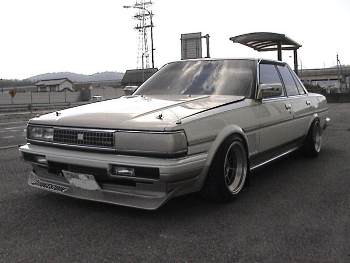 Front view of the Cresta GX71
As you can see it's got a nice lip, some bonnet security and one blacked out headlight. I wonder how this blacked out headlight can be road-legal?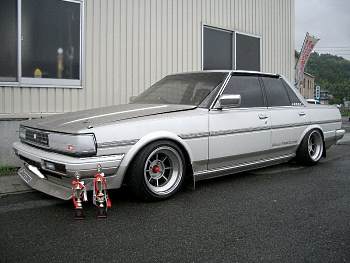 Side view of the Cresta GX71
Apparently it won some prizes, but the site of the owner does not tell me anything about what he won.
Read on for more info…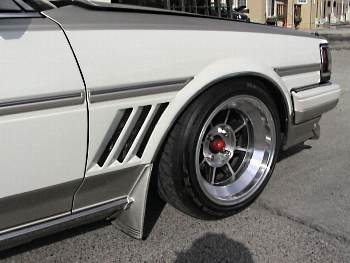 Gills for better breathing?
It's got gills for better breathing, or would it all be show?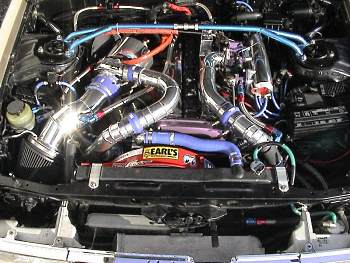 1G-GTE engine inside the GX71
The 1G-GTE engine has been modified. At first I identified the engine as a 1JZ because of the intakes. However the rest of the engine looks very 1G-GTE and the owner claims it is still a 1G-GTE.
More info at the owners website:
gx71world
by bosozoku with
Okay, this is not bosozoku style, but it is bosozoku related: this Nissan Silvia Turbo S12 Super Silhouette is on of the Super Silhouette cars that ruled the tracks during the early 80s.
These Super Silhouette cars have influenced the Bosozoku styling a lot: that's where the boxy widened bodyshapes, spoilers, lips and sharknoses come from.
Enjoy this video all about the Nissan Silvia Turbo Super Silhouette:

by banpei with
Not much to say about this. Video should tell more than I can do with words! 😉

by banpei with
Just to annoy Banpei: a bosozoku Carina! XD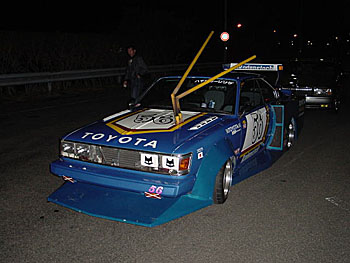 Bosozoku Toyota Carina Coupe
Let's hope his Carina gets the same smart look as this one!! Exhaust sticking from the hood, nice large wing on the bonnet, wide fenders and that great spoiler on the nose of the car!

by bosozoku with
Simple: just drive it of course!


I love the way they modified the first Kenmeri skyline… Big gear shifter (almost touching the roof), super lowrider, big exhaust, SSR Starshark rims. All very taseful!
The other yellow Kenmeri skyline has a nice sharknose, but apart from that it is not really my taste…
by bosozoku with