Or should the title rather say How deep is your bling? 😉
These 10J wide SSR Mk Is will eventually be used under a Gloria 430: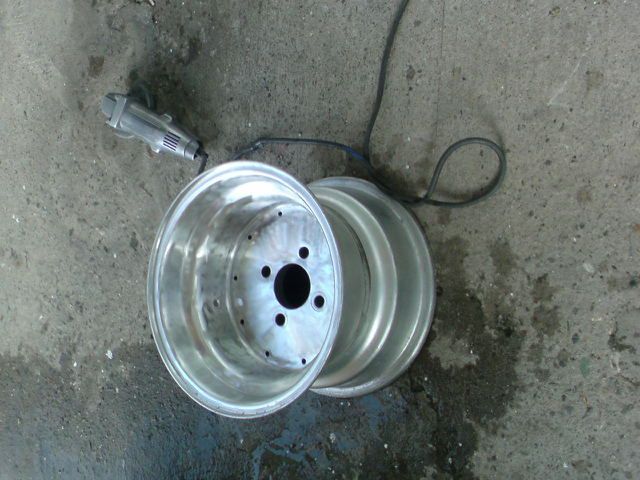 Deep dish bling: SSR Mk I
Shiney! 🙂
by banpei with
After last weeks pigsbutt C130 it is time for one of the mothers of the whole Gran-Chan style: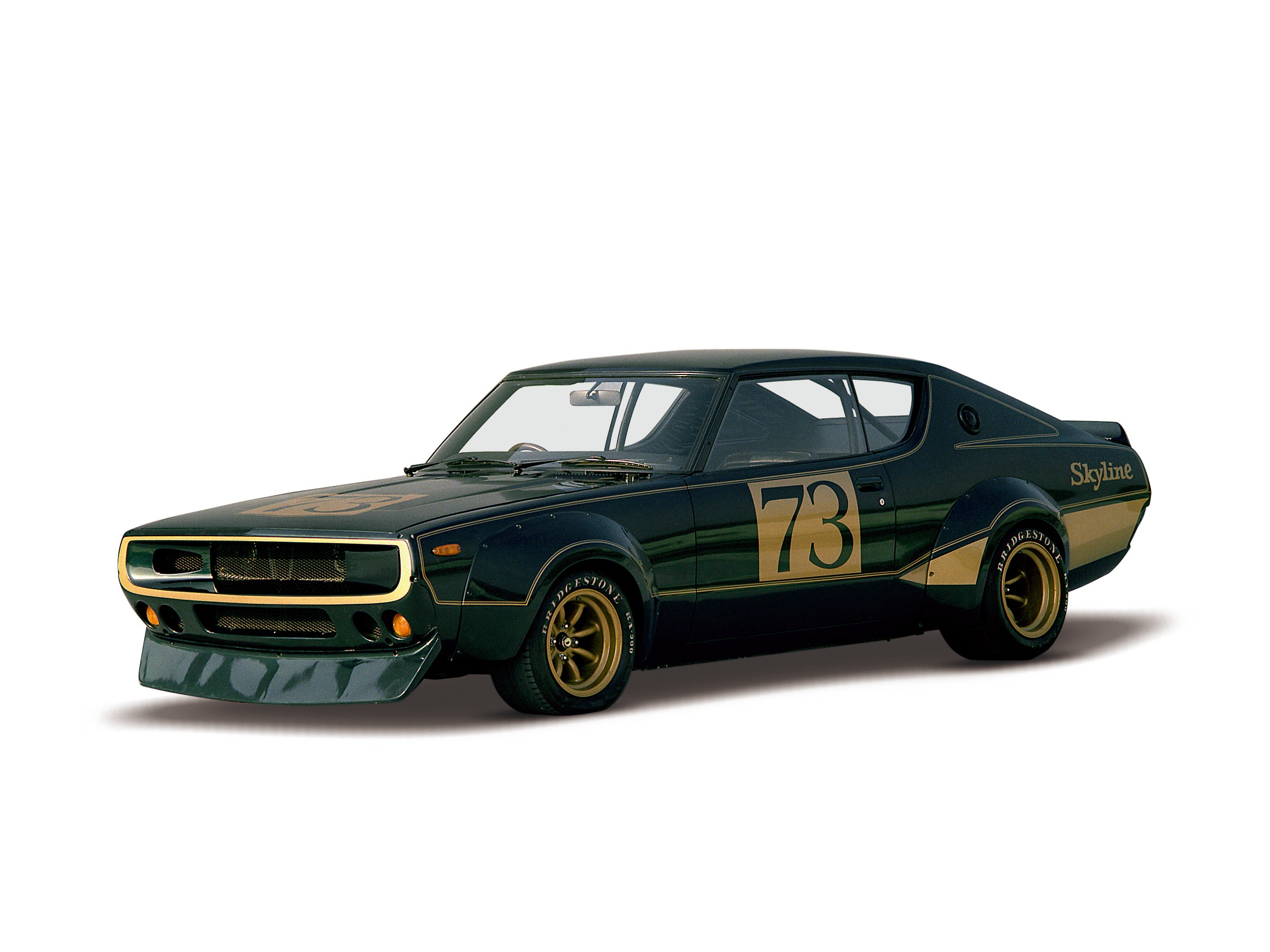 The official Nissan Skyline KPGC110 GT-R track car
Right-click here to download or set it as your wallpaper!
by banpei with

I just happened to stumble upon this great looking two-tone Toyota Chaser MX41 hardtop coupe on Auctions Yahoo: and it has got it all!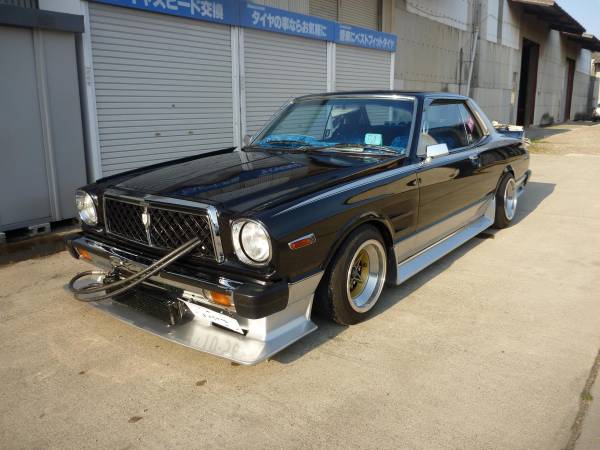 Featured: Toyota Chaser MX41 hardtop coupe
Apart from the oil cooler between the front bumper and chins spoiler the car also has a great early 80s two tone paint scheme, a set of Techno Phantom rims and (invisible here) a cucaracha horn behind the grille!
The car also comes with a big ducktail and a tsurikawa dangling below the rear bumper.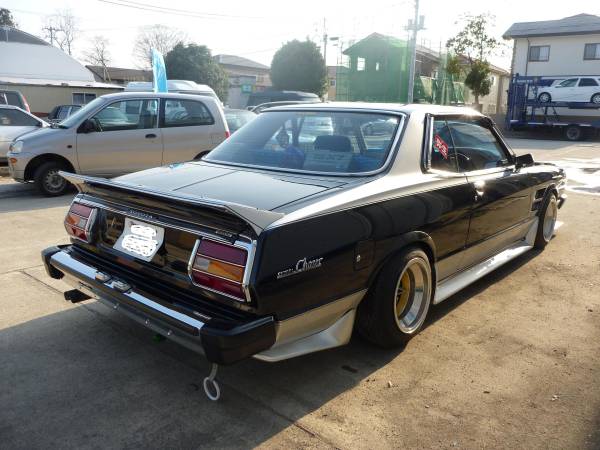 Featured: Toyota Chaser MX41 hardtop coupe
The SG is one of the highest grades of the Chaser: it has IRS and is powered by the 1M-EU engine. This low mileage example has been garaged in the past 10 years so there hardly any rust on it!
And what is a zokusha without some pimp blue interior?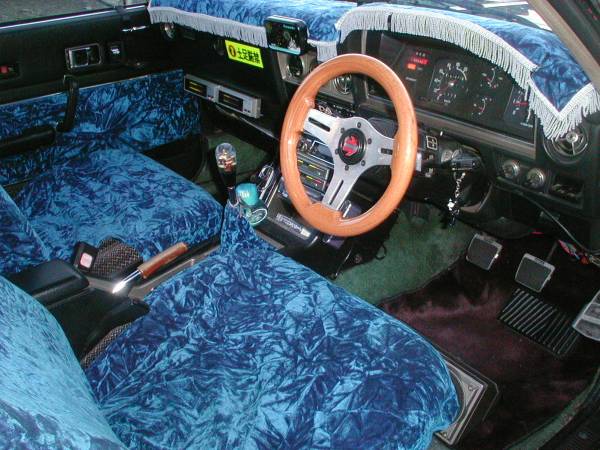 Featured: Toyota Chaser MX41 hardtop coupe
The seller describes even hauling his children to the nursery with this car daily. How awesome is that?
The buy-me-now price of 950,000 yen (11,000 US dollar) may sound a bit steep, but it is definitely one of the best looking MX41s I've seen so far.
You can find the auction link here
by banpei with

Not a very recent meeting, but nevertheless a very special meeting: this video was shot in 1986 (Showa 61) and gives a good insight in the taste they had back in the 80s!

You can mostly see old Laurels C130, Skyline C10s and C110s, Fairlady 240Zs and occasionally a bit more modern zokusha like the RX7 SA22. 🙂
In this second video the crowd gets a small visit by the police:

And in the final part involves a lot of window sitting and flag waving:

by banpei with
Another small teaser: the colored cover of the coloring book!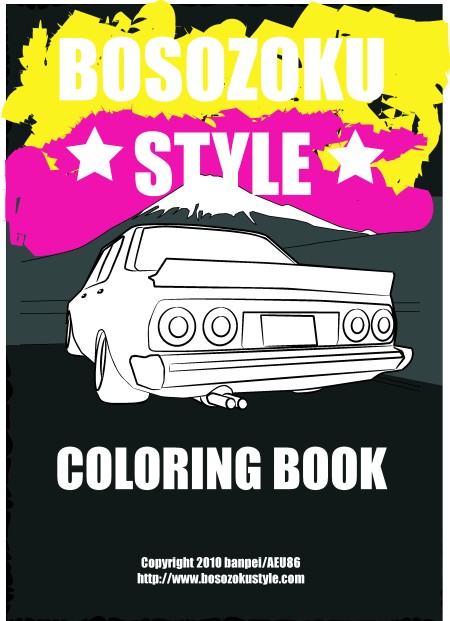 Bosozoku Style Coloring Book cover
The colors are a slight bit off due to CYMK to RGB conversion, but it should be alright IRL. 😉
I also got an ETA for the books: they are going to be delivered somewhere in the beginning of next week! 🙂
by banpei with