Over the past years Aoshima has been releasing several Garuchan boxes containing 12 cars per box.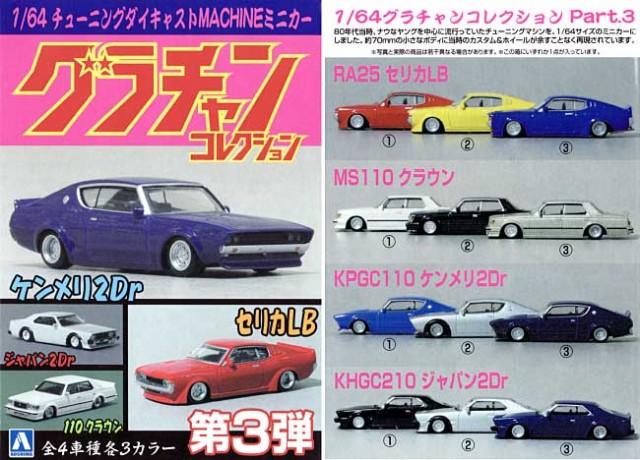 Each box contains four models with three different paintschemes and/or modifications and so far six different boxes have been released!
This guy has been collection them and shares them through Youtube: (more…)
by banpei with
During the first few seconds of this video I thought there wasn't changed much on this Mitsubishi Galant Sigma, but when the camera moved to the side it became apparent that I was wrong:

Those deep dish SSR Mk IIs surely need some wide fenders, a big chin spoiler and the side exhaust finishes off the looks! Now doesn't that engine sound a bit weird?
by banpei with
From time to time people post on youtube a video with their whole kaidou racer collection. Especially this video by Sabu3362 is a nice one:

I love the star shaped exhaust @2:22! 🙂
by banpei with

The remaining videos of the meeting we posted on saturday:

You can see a lot of well known zokushas nice zokushas. The yellow Chaser would make a great one for the exhaust of the week!

The white Cresta GX71, blue Mark II GX71 and Soapra (Celica XX with Soarer MZ10 nose) are also very well known zokushas.
And last but not least, the video we posted last saturday:

Too bad only three videos are available from this meeting. The meeting is, according to the poster, a kaidou racer meeting held on 30th of August this year. So not too much info on the meeting itself either…
by banpei with