I found these pictures in one of the JCCA New Year Meeting 2010 galleries. These two zokushas are making donuts. One of them appears to be a Toyota Cresta GX71 (judging from the front bumper) with a nice set of deep dish SSR Mk 1 rims: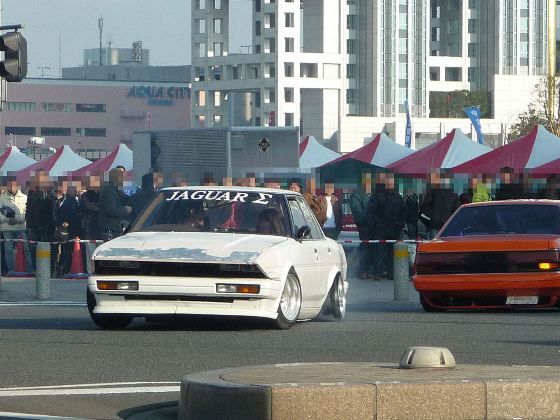 SSR Mk I on Toyota Cresta GX71
Apparently the left rear tire of the Cresta blew and these rims got certainly some damage from that action.
You can see it better in the enlargement of the picture: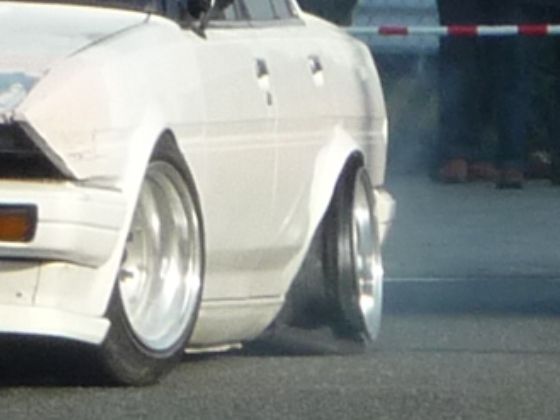 SSR Mk I on Toyota Cresta GX71
Judging from this picture I'd say these rims are around 10J. 🙂
Found at Life Doodling.
by banpei with
Almost all videos posted about the Tokyo Auto Salon Meeting 2010 were about the road to TAS 2010. kengitv1106 just posted some videos of the actual parkinglot meeting yesterday:

Big LOL @ the guy hitching a ride on the lip of the GX71 at 1:40

I love the way the crowd tries to inspire the drivers of the zokushas to rev their engine! And the Y30 at -0:52 would be a great one for the exhaust of the week! Also the Skyline C210 at 1:38 actually is the exhaust of this week!
We will post the other videos next week!
by banpei with
OMG!! It is a tie!
Both the Laurel and the Skyline got 50% of the votes, so we will have to do extend the final with one extra poll!
versus
by banpei with
Last week we featured a tree-like exhaust on a GX61 at TAS 2010. This week we have a Nissan Skyline C210 with a hatstand-like exhaust, also found at TAS 2010: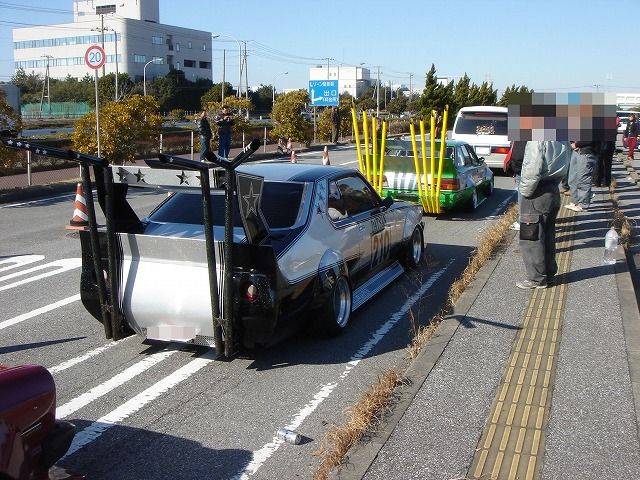 Nissan Skyline C210 with hatstand exhausts
by banpei with
For the people too lazy to create their own RC zokushas Aoshima created two sharknose Skyline RC cars: a sharknosed C110 and a sharknosed C210, both available in two colors.
This is what the C210 looks like: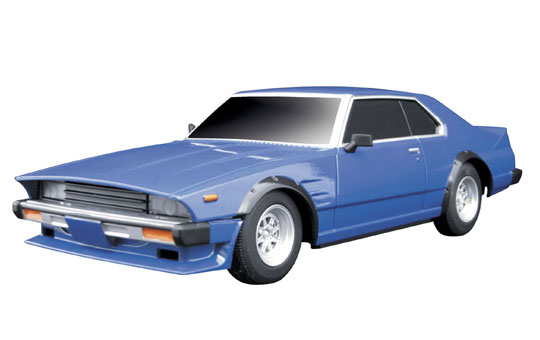 Aoshima Skyline C210 RC zokusha
I must say I was impressed by the detail in this RC car: the rims are deep dish SSR Mk IIIs (on the C110 deep dish RS Watanabes can be found!), the headlights are nicely covered behind the sharknose, the lip is in square zokusha style and the rear spoiler has its lines continue in the bodywork! Nice! 🙂
Found through Japanese Nostalgic Car blog. The
RC cars can be found here.
by banpei with