Unknown meeting posted as Kaido Racer 3rd of January 2013: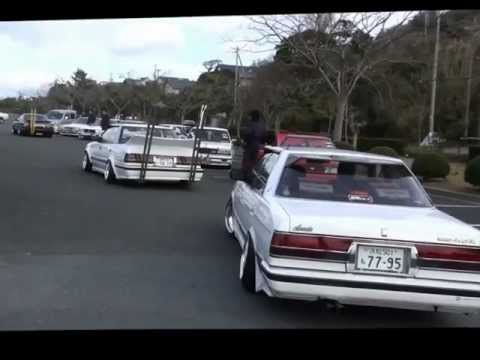 Given the date it must be a new years meeting.
The video can be found after on the full page:
by banpei with
Earlier this week I found a bunch of pictures of the Nissan Bluebird 910 Super Silhouette racer: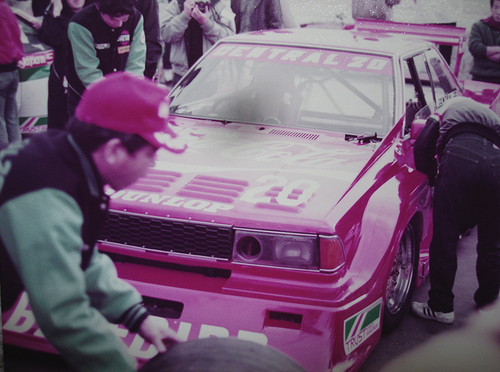 These pictures are quite scarce as the Bluebird was the least favorable race car of the Nissan Group 5 racers: the Hasemi Skyline and Hoshino Silvia drew all attention away from this magnificent car!
Here you can have a good view of that amazing LZ20B engine: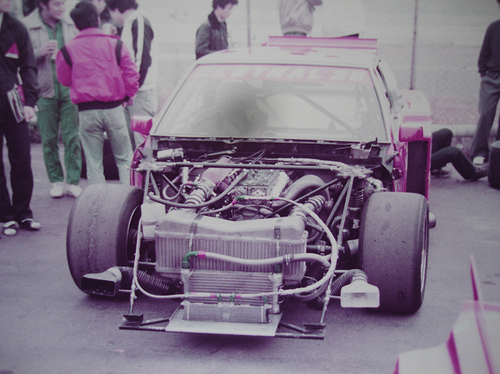 2 litres, a twin cam, 16 valves and a big ass turbo was all it took to produce 570hp!
Found at Tumbler
by banpei with
Ebina Racing surprised us earlier this year with their Bluebird 910 Super Silhouette replica at the Tokyo Auto Salon but it is not as if they did such an amazing thing out of the blue. A few years ago they already did a similar thing with a Mazda Savanna SA22C Super Silhouette replica.
But they have a long and rich history of various cars they made all the way back to the late 80s. Take for instance this Skyline GT-S R31: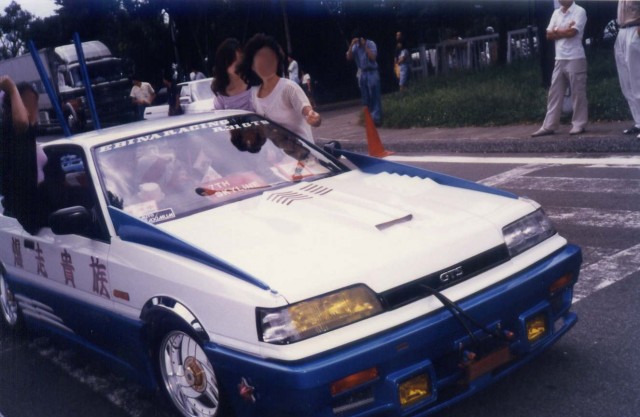 It may look horrible by todays standards, but back then their R31 GT-S looked stunning: flaked paint, victory pipes, hood fins, Hiro V1-R rims, chromed fender flares and Testarossa style gills on the side. Everything you needed on your Skyline in the late 80s!
Found at y_0*8**8
by banpei with
This project had been sitting on my harddisk at 80% completion for over a year now and earlier this week I discovered it again. I was so anxious to complete the project now that I just *had* to upload it to Youtube immediately!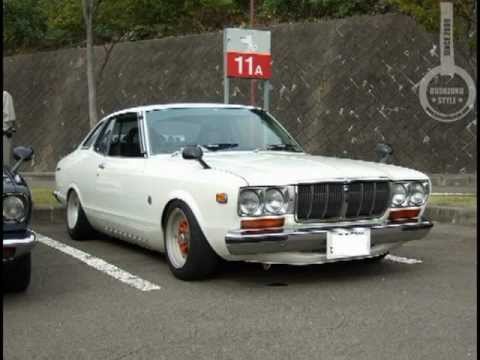 The video is over a good four and a half minutes of (JDM) Nissan Bluebirds in all varieties. Most of the pictures I've collected in the past few years, but some of them I had to specifically search for in order to fit them into the video.
Anyway, enjoy my tribute to all kaido racer / shakotan / kyusha kai Bluebirds mixed together with good old fashioned disco by Boney M.: (more…)
by banpei with
I found this beautiful kyusha kai Nissan Bluebird-U at the Dual Factory BBS. It features a set of deep dished steelies that are at least 9J wide!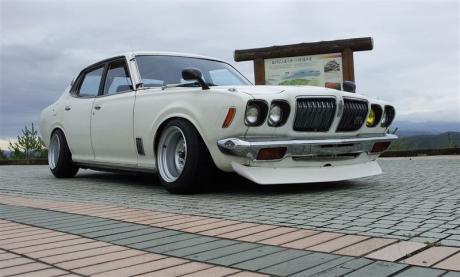 Deep dish steelies on a Bluebird-U GTX
As you can see this Bluebird is the almost unobtainable GTX featuring a stretched nose to facilitate the 2 liter inline six. Amazing car!
Found at Dual Factory
by banpei with