Okay this sharknosed Skyline C110 is by far not as exciting as the roofchopped Mark II GX71 by Tijs Lochbaum, but it is cool that such a thing even gets sold commercially!


Headlights and taillights are working and for a mere 980 yen (12 dollar) it can be yours!
Found at sharknose Skyline C110 RC car
by banpei with
What's better than a Skyline Japan kaido racer? Two Skyline Japan kaido racers of course!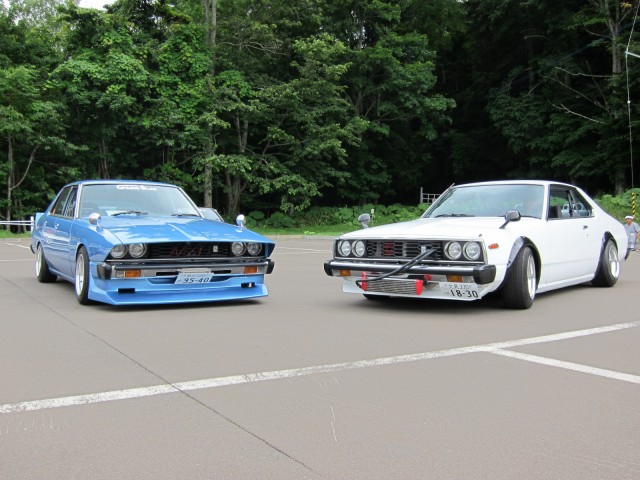 Two different body styles, two different kaido racer styles, definitely a win!
Right-click here to download or set it as your wallpaper!
Found at factoryking
by banpei with
This is definitely one of the best bosozoku styled Cresta's ever: sure it's got a sharknose, an oil cooler, front air dam with lip, extended fenders, big takeyari exhaust, deep dished SSR Mk IIIs and a ducktail spoiler. But what is the key element I did not name here? (more…)
by banpei with
Two short videos of a kaido racer meeting somewhere in Japan on the 30th of October:

Note the orange Cresta GX61 at 0:12!
And another one from the same meeting, but then with two sharknosed nonsuri Skylines: (more…)
by banpei with
Aggressors of Dark Kombat was a fighting game released by SNK in 1994 and went a few steps beyond their normal fighters. As the name already suggests: the game uses the K to make a wink to the Mortal Kombat.
The game itself was more targeted to the street brawling youth, hence all the references to the bosozoku in it. In this fragment you can spot in the background a shark nosed Toyota Soarer GZ10, a Toyota Crown MS125, a Toyota Cresta GZ71 and a Toyota Celica XX GX61 with oil coolers mounted on the bumper! Makes me wonder if they got some cash from Toyota for inserting their whole 80s lineup…

Now where can I find a second hand Neo Geo? 😉
by banpei with