Just in case you did not revisit Nori Yaro yet: he already posted Part II and Part III of the kaido racer New Year Mt Fuji cruise!


And the photos are even better than in Part I!
by banpei with
My heart skipped another beat, twice: first of all Nori Yaro posted something new and second of all he joined a New Year cruise with a couple of kaido racers to Mt Fuji! Alexi hasn't dropped his skills, just take a look at this beautiful photo: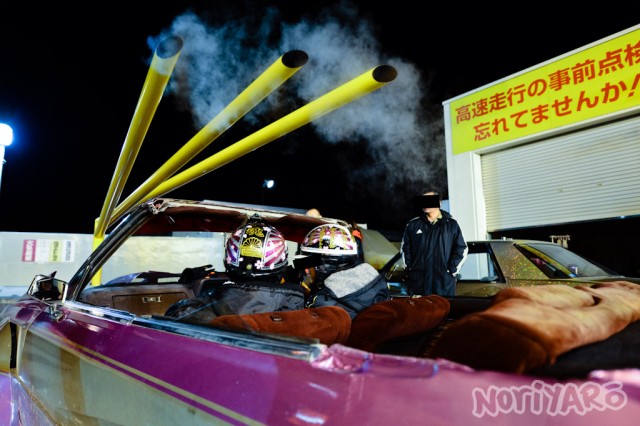 It is only an example of 29 pictures posted in his new blog posting and many of them are quite infamous already! And since his posting is only the first of three there will be a lot more photos to follow!
I kind of gave away my personal favorite photo, but which one is yours?
You can find the first post here:
HAPPY LOW YEAR: Bosozoku cruise, part I
by banpei with
Not exactly the car and/or style you would expect here, but definitely worth mentioning: Alexi from Nori Yaro spotted this insane tire stretch on Kawashima-san's Celica ZZT !


Tires stretched to the max!
Some people can put a pack of cigarettes on their dish, but Kawashima-san can put the pack of cigarettes on the other side of the dish! Insane!
Found at [Nori Yaro]
by banpei with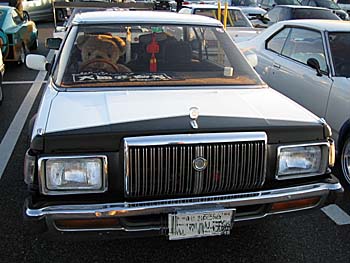 Is it a Toyota Crown Policecar?
Some may already have seen a picture of this car on the posting Alexi of Nori Yaro made at the Daisuke Shouten photoshoot.
Read on for more pictures…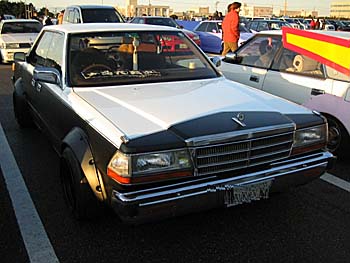 Or is it a Nissan Gloria policecar?
Here you can see how the car used to be in its full glory back in 2006 at the Tokyo Auto Salon.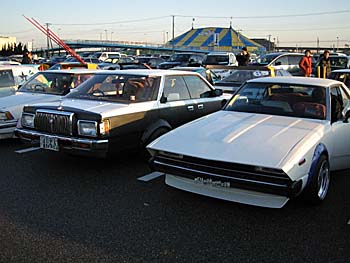 No, it is both a Gloria and Crown policecar!
I think it is an excellent example of what Daisuke is capable of! We've seen several examples at his workshop photographed by Alexi of Nori Yaro and seeing this at the Tokyo Auto Salon meeting is an absolute sign of his geniality!
by banpei with
Alexi from Nori Yaro visited Daisuke's shop:
If you're a fan of Option videos, you may have noticed that whenever they feature a bosozoku-style car, like in the Go Go Daijiro segments, there's always this one guy named Daisuke who keeps showing up with one or two of the cars. After a relatively difficult time tracking down his workshop (I eventually found an ad of his in a slightly obscure magazine and called the number) I took a drive out to visit it.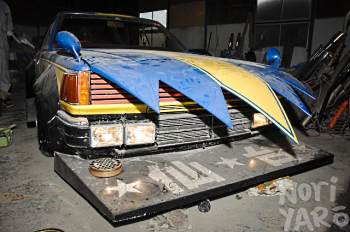 Wild bosozoku styled Gloria Y30
I think pictures say more than words here… They guy Daisuke does modify a lot of cars and has a giantic stockpile of cars in his backyard ready for modification!
Read on for more pics…

Of all cars in his backyard this is my personal favorite: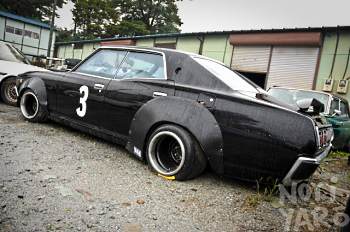 Widest rims I ever saw on a Nissan Laurel!
If you want to see what more there is in Daisuke's backyard, you can find Nori Yaro's blogpostings here and here.
by banpei with