This week we have part two of the meeting video by Shakotanbugi. Another mashup of all 2011 meetings.

Direct link to the video: ??2???????2011?
by banpei with
Last Thursday I was reading one of the RC car features on Speedhunters. This feature was about a roofchopped Toyota Soarer by Tijs Lochbaum crafted with the most tiny details. It reminded me of another RC car that was sent in by one of my readers: a roofchopped Mark II GX71 with the same level of details as the Soarer. Could it be???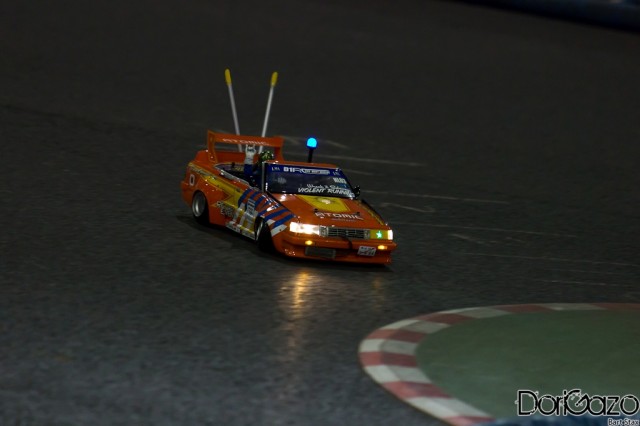 Yes indeed: almost two months ago the very same Tijs approached me with the picture above and just look at all those tiny details!
At a glance you immediately spot the oil cooler, blistered fenders, hood fins, victory exhaust pipes, JDM license plate, headlight covers and the bosozoku driver inside!
The Mark II was built for the WK RC drifing match held at the end of August and it became second in the best of show competition. (more…)
by banpei with
Revving a bike is definitely not only limited to male bosozoku, but also performed by women!

I love the rough noise her bike makes and I'd bet she and her bike are another revving champion!
Direct link to video: ???????????
by banpei with
It is always nice to see a couple of kaido racers being utilized in something different than donuts and revving at meetings: Zeppann13J posted videos of a few kaido racers doing fast runs at the Sendai Highland drag-strip!
First of all a Yanky Mate! Fairlady Z against a Yonmeri Skyline:

A pigsbutt Laurel on 10J wide Techno Shadow rims: (more…)
by banpei with
Last week's Meeting Monday featured a lower-than-shakotan Soarer at the Wanko Road Kaohsiung meeting where a hero saved the day by holding up the flares. You can now see it all happen on the photos someone else took that day: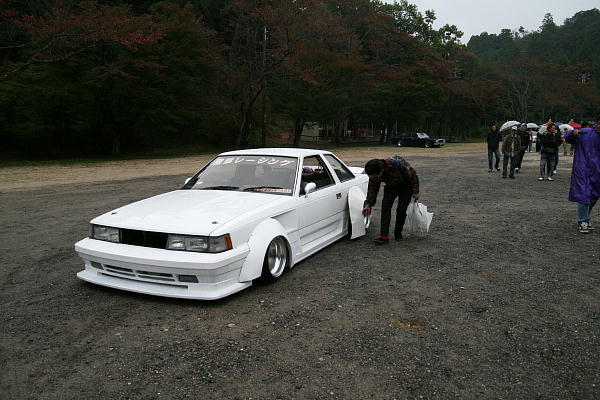 Is it still holding on??
Up close the guy really looks as if he just hitched a ride in a Delorean from the early 90s! (more…)
by banpei with