Rare Bosozoku cars: Toyota Corona RT132

This week we don't feature a popular bosozoku car, but a rare bosozoku car! We thought that featuring popular bosozoku cars each week would get a bit boring after a while so we want to alternate between popular and rare from now on. 😉
This week we have a rare bosozoku styled Toyota Corona RT132: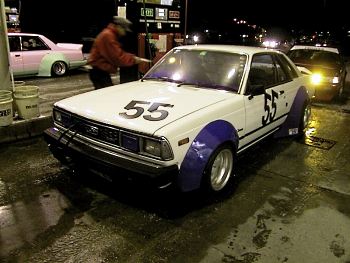 Rare Bosozoku styled Corona RT132 coupe
Big fender flares, deep dish wheels and an oil cooler on this baby! Would the number 55 refer to an old Formula Silhouette racer?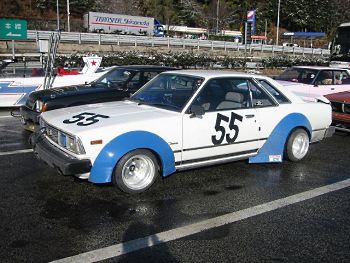 Rare Bosozoku styled Corona RT132 coupe
You may ask yourself how do I know it is a RT132? Quite simple: this Corona features the DOHC logo in the grille. The only engine with DOHC the Corona was delivered with is the 18R, so it can only be the RT132. Unless the owner rebadged the grille of course!
This car is the facelifted coupe version, which in my opinion is the best looking Corona T130.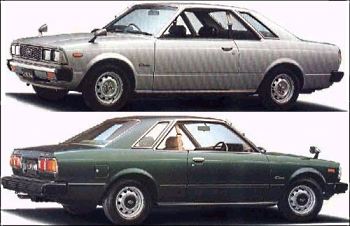 Factory stock photos of the Toyota Corona coupe
The Corona T120/T130 was the successor of the Corona T100/T110. The T120/T130 got a new floorpan and got an increased 25mm in wheelbase. The bizarre thing is that the successor of the T120/T130, the T140, decreased 25mm in wheelbase!
The Corona was placed against the Honda Accord, Mazda Capella, Nissan Bluebird and Toyota's own Carina/Camry. The Corona itself was, compared to the Carina and Camry, the more upmarket car offering much more luxury and options than the Camry and Carina.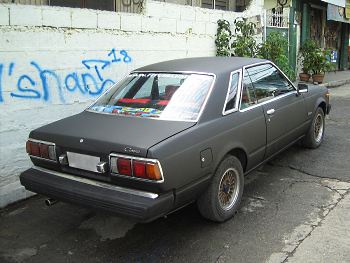 Almost factory stock Toyota Corona RT132 coupe
The Corona T130 got a large variety in engines and gearboxes, but the main engines in Japan were the 12T-U, 13T-U, 3T-U, 18R-GEU and the 21R-U.
I did see a TT132 (3T-U) for sale some time ago and thought about getting that car instead of my own, but personally I do like the styling of my Carina a bit better. However the Bosozoku styled example is more tempting than that 4 door Corona TT132 I saw back then…
This entry was posted in Rare Bosozoku cars and tagged corona rt132, Rare Bosozoku cars, toyota corona by banpei with