Apart from being groundscrapingly low this shakotan Yonmeri Skyline has it all: Techno Shadow rims, Cherry X1-R tail lights, 70s racing mirrors and, of course, a sharknose!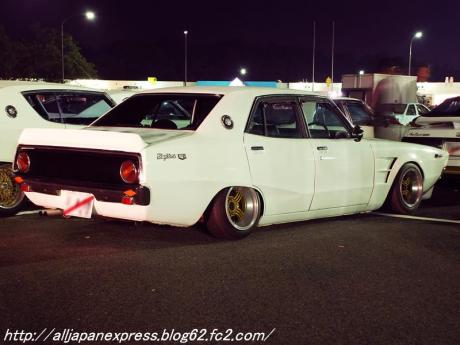 Shakotan Yonmeri Skyline
Found at [AllJapanExpress]
by banpei with

This monday a bunch of videos pipiyumio shot at the Nagoya Auto Trend in 2008.

Perhaps the videos are not in the best quality (I suspect he used a phonecam) but the sounds of those revving zokushas makes it definitely worth!
And in this last video a couple of Yonmeris and a Mark II GX61 leave the scene:

by banpei with
This picture show the anatomy of what a good zokusha should look like: big lip, racing mirrors, big spoiler at the tail and deep dish 14 inch SSR Mk II rims!



Zokusha anatomy
Can't be more right than this!
by banpei with
Time for a meeting picture compilation by Ultra Heaven:

Team Ultra Heaven has an amazing lineup of cars: a pig-butt C130 Laurel, Yonmeri Skyline C110, MX41 Mark II and a whale Crown MS60!
by banpei with
No videos of the Nagoya Classic Car show this week and I think everybody did already see most of the pictures… So this week we have a group called Ultra Heaven which just started to compile all their meeting material and upload it to Youtube! Enjoy their first video:

Stay tuned for more of Ultra Heaven! 🙂
by banpei with