I was doubting if I should post this picture under part swaps or as a picture of the week. Because of the butaketsu Laurel SGX parked in front of the Skyline Japan it became the latter…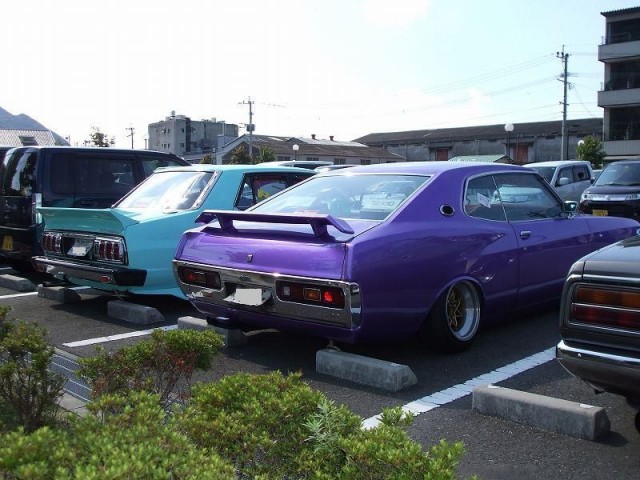 Yesterday I already featured a very nice scale model buildup of a pigsbutt Laurel SGX but in real life it looks much better, especially if it also features a Hiro spoiler on the boot lid. The Skyline features a set of (badly copied) Celica banana tail lights. ('A`)?
Also if I'm not mistaken these two cars are the two main cars of Ultra Heaven.
Found at: ??
by banpei with
Sorry for the lack of posts: I just got back from my holiday in Bali and New Guinea and only had internet in one hotel.
I haven't spotted any real bosozoku styled cars, but I'll post something up later this week that's almost as good as the real deal. 😉
For now let's kick off with a new video by Ultra Heaven: Saturday Night Angel!

by banpei with
Ultra Heaven is overdoing doing it again: smashing meeting pictures accompanied by an upbeat 70s disco beat! Enjoy more than four minutes of madness!

Music is Himiko by Philipine disco ban Pasionnata.
by banpei with
Shortly after I posted up last weeks Meeting Monday the guys from Ultra Heaven posted another video, but this time a video with more pictures of the meeting!
Apparently the first video was the gathering shortly before the Akiyoshidai meeting and this video contains the meeting itself. About 300 cars showed up!

I see a lot of familiar cars there!
Found at [Ultra Heaven @ Youtube]
by banpei with
Ultra Heaven just uploaded a video of a meeting at the Akiyoshidai plateau (north west of Yamaguchi City) in the Yamaguchi Prefecture. I didn't know there were that many members in the Ultra Heaven team!

BTW: I love the low swimming kujira Crown!
Found at [Ultra Heaven @ Youtube]
by banpei with