These videos are from the Tokyo Auto Salon 2010), a bit late but nevertheless some really nice videos!
The infamous Gloria 430 with Y shaped exhaust and a roof chopped Mark II GX71:

Two Mark II GX61-es:

And my personal favorite, a red/yellow Soarer sliding together with a double star shaped exhaust Crown:

Also compare this video:

With the second TAS video posted here: the two filmers are located next to each other! 😀
by banpei with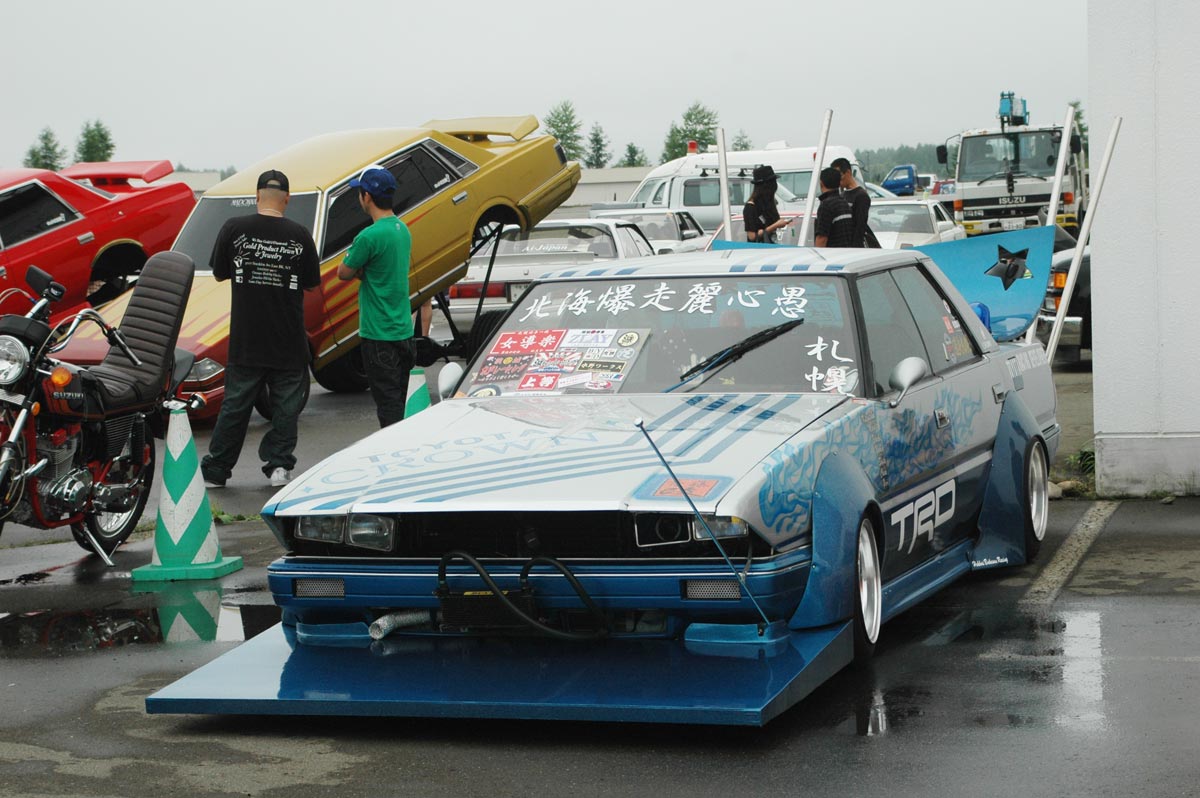 Bosozoku wallpaper: Sharknosed Crown
Right-click here to download or set it as your wallpaper!
by banpei with
This Heros 79 Crown is one of the best looking Crowns I've seen so far! Its wicked styling includes everything: big lip, oil cooler, hood fins, ultra wide boxy Super Silhouette fenders with deep dish SSR Mk 1s in them, big double spoiler and of course four skyscraping exhaust pipes at the rear!
The image may not be meant for widescreens, but it is surely a great wallpaper for your desktop if you center it!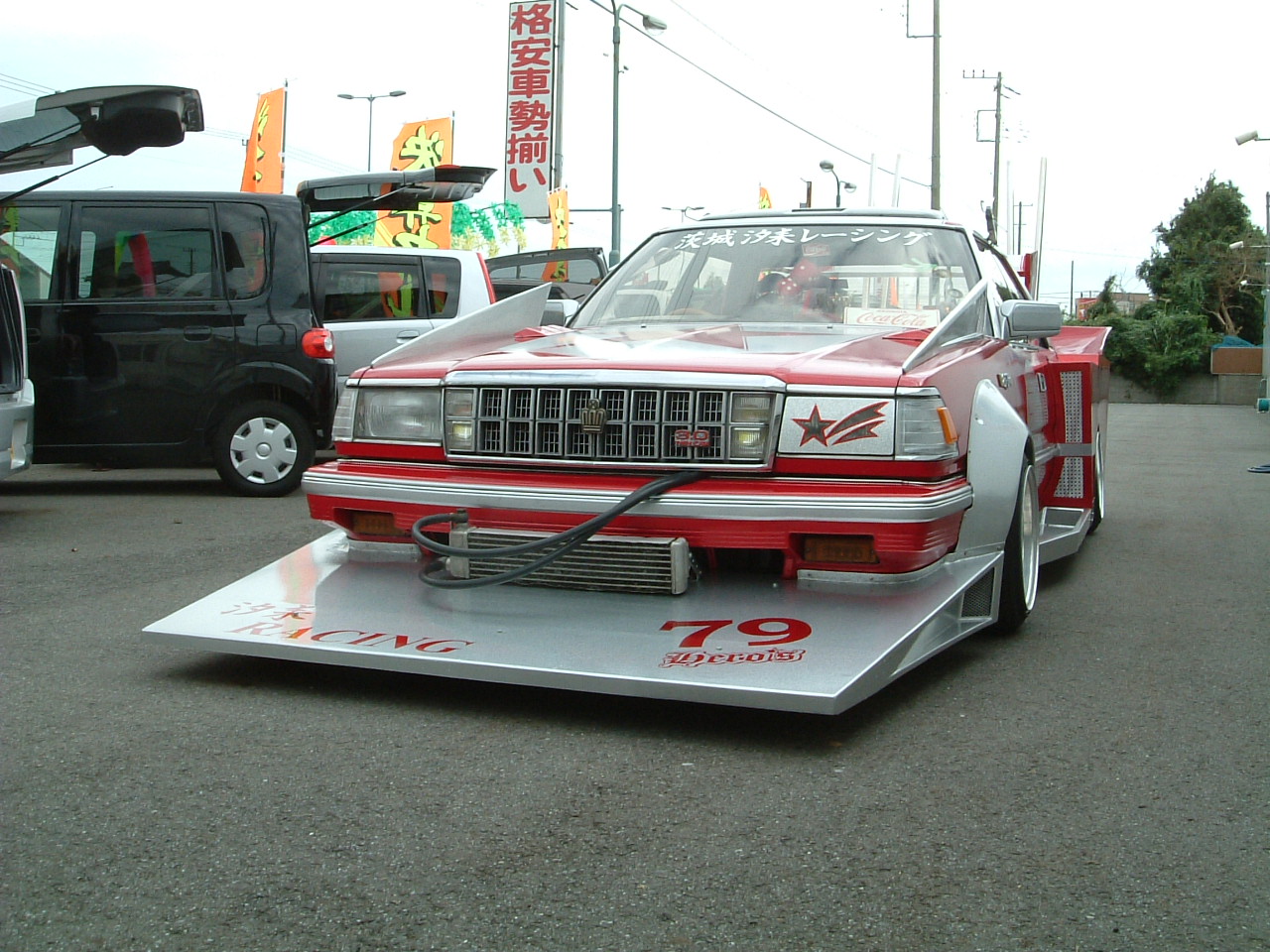 Bosozoku style wallpaper: Heros 79 Crown Number One MS125
Right-click here to download or set it as your wallpaper!
by banpei with
I really dig the way the exhaust pipes of this Crown are photographed! It shows perfectly how ridiculously long these pipes actually are!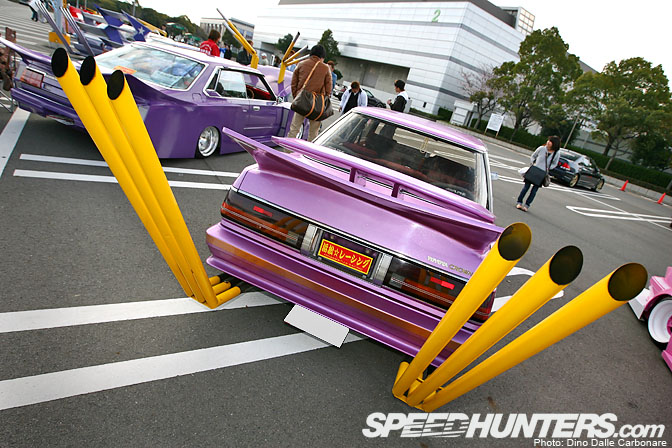 Toyota Crown MS130 at Nagoya Exciting Car Showdown
I already wrote about the Speedhunters coverage of the Nagoya meeting two weeks ago and this picture is featuring in that coverage. Dino is absolutely a master in exaggeration of the perspective, so this meeting was absolutely well covered by him!
Head over to Speedhunters for the full Nagoya showdown!
by banpei with
This white Toyota Crown MS130 almost falls into the same Kyusha Kai category as the Cresta GX71 I posted last week. There are a few small differences: the wheels are wider than the fender, wheels have camber, an oil cooler on the bumper and most importantly: dice on the rear view mirror!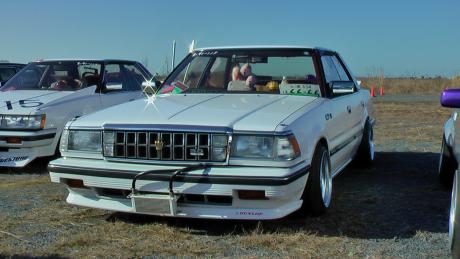 White Toyota Crown MS130
by banpei with