Enjoy this over 20 minute documentary from the early 80s on the legendary Skyline!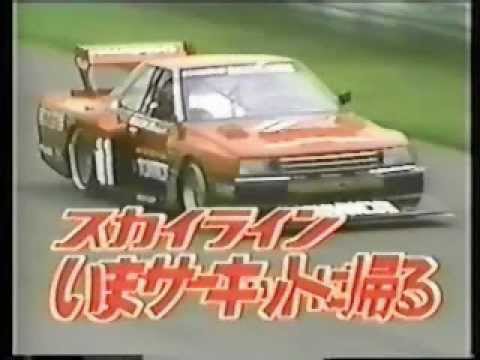 It includes the Skyline RS Turbo Super Silhouette racer and the historical races of the legendary Skyline S54 attempting to win the GT-II class, the R390 and several races with the hakosuka Skyline. (more…)
by banpei with
Amazing what you can do with a Kenmeri Skyline, Hakosuka Skyline, Fairlady Z, some photoshop skills and fooling around with different JDM styles:

I especially love the Grand Champ Hello Bosozoku style! 😉
Direct link to video: Japanese classic car Skyline Ken?Mary ???? JDM ?? illustration
BTW: this is a crosspost with Banpei.net
by banpei with
Take4Mickey treated us with an old meeting video from 1993 in Nabeta. Now only which Nabeta did he refer to?

I've fallen for the tail-light-less Skyline C10: somehow it looks so right! I only wonder how legal it would actually be…
And also note the hoodfins on the Soarer around 2:30: they are so big they look like they came from the batmobile! And after that it gets more crazy then you would expect!
Direct link to the video: ??'??
by banpei with
At first sight this kyusha kai Nissan Skyline KPGC10 doesn't look that out of the ordinary. Take a good look when it passes a second time!

That's a very wide set of 8 spoke RS Watanabe with very very stretched tires! Would this still count as hippari or rather insane?
by banpei with

Not a very recent meeting, but nevertheless a very special meeting: this video was shot in 1986 (Showa 61) and gives a good insight in the taste they had back in the 80s!

You can mostly see old Laurels C130, Skyline C10s and C110s, Fairlady 240Zs and occasionally a bit more modern zokusha like the RX7 SA22. 🙂
In this second video the crowd gets a small visit by the police:

And in the final part involves a lot of window sitting and flag waving:

by banpei with