Welcome to the second part of the 2009 Shiraoi meeting video coverage! If you missed the first four videos posted in the previous part, you can find them here!
The fifth video begins good: with a shakotan C230 Cedric on the foreground, a grachan Celica XX and a Mark II with a peacock exhaust (takeyari) showing its tail feathers for a good 25 seconds!

In the sixth video more takeyari Mark IIs, a bunch of shakotan 910 Bluebirds and a grachan Soarer MZ10.
Read on for three more videos!

The seventh video gives you a good impression of the pitlane and the activity on the straight of the circuit:

And the eight and last video shows the Team Maddona Gloria next to another one. I'm getting a bit puzzled here: I already saw three Gloria Y30s on this meeting! Is this a new craze?

by banpei with
We have no idea what the purpose is of this streamlined exhaust if you have such a big wing at the back of the car: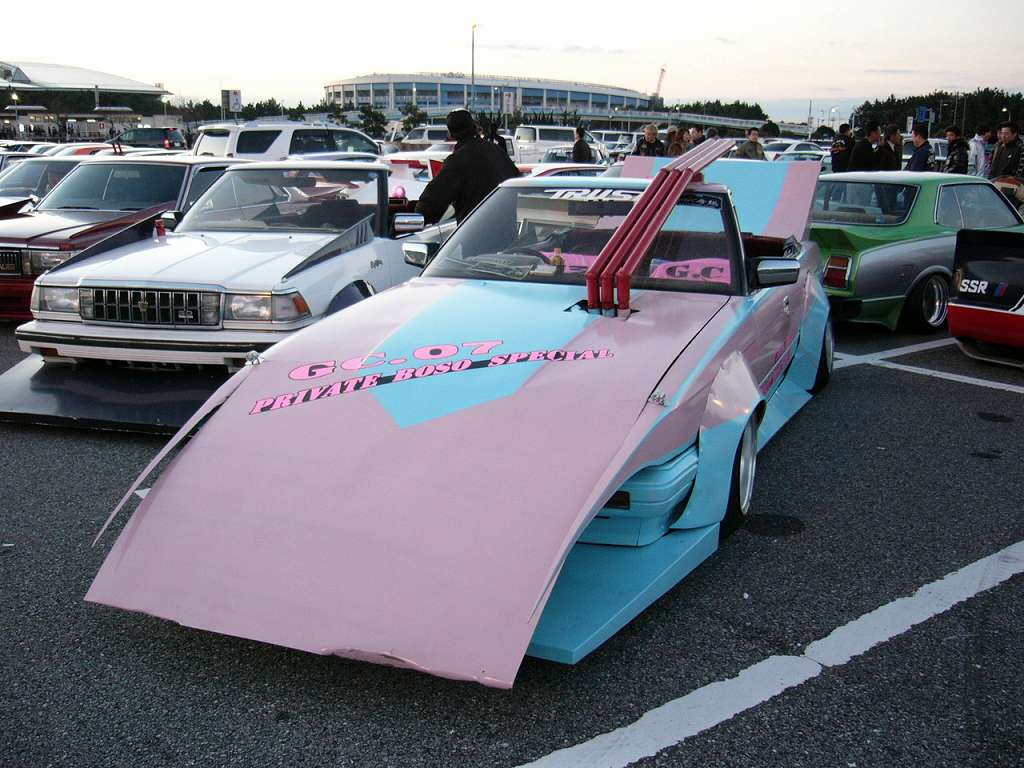 Fly over exhaust on Mark II
The exhaust looks like a fly over piping with its triple exhaust pipes.
It may be a bit uncomfortable for the passengers to get out on the passenger side of this car after driving this car for a while. I can imagine it will become something like limbo dancing to get out!
On the other hand you won't get cold driving to the Tokyo Auto Salon meeting in January!
by banpei with

Another long series of meeting videos by jyoutou. This time he uploaded all coverage of the 2009 meeting at Shiraoi.
In the first video you can see the infamous Team Madonna Gloria:

In the second video a nicely done sharknose Mark II with a set of double exhaust pipes (takeyari), a few other Mark IIs, a Skyline C210 and many many motorcycles:

In the third video a big lineup on all cars:

Including a bippu second generation Cima Y32, followed by a pair of bippu Cedric Y32s!
The fourth video has a Team Madonna inspired Cedric 430 with grill which looks like it is from an 80s Lincoln Towncar Limo! And yet again: many many motorcycles!

Next week we will show the next four videos! If you can't wait for that, visit JYoutou's page on Youtube!
by banpei with
This week we have a bit of a weird picture: it is a picture taken with a digital camera of a dia-positive projected on a sheet of paper. Anyay, it shows a highway cruise with some zokushas. The front car is a GX71 Mark II Grande with a big star shaped exhaust:


Toyota Mark II Grande GX71 Stardom
The car behind the Mark II Grande looks like a Skyline C210 but the picture quality is so bad we can't tell for sure…
by banpei with
The reason to post this image is because it is one of the few cars with an exhaust pointing forward: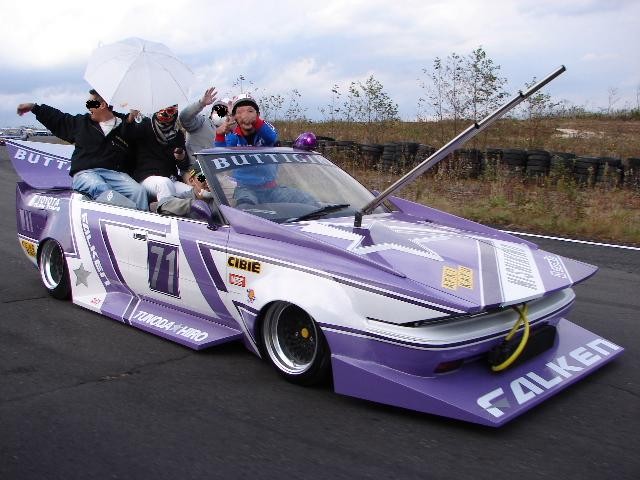 Buttigiri Mark II with forward exhaust
Madness! Almost looks like a battleship this way!
by banpei with