Since the meeting in the parkinglot of the last day of the Tokyo Auto Salon is held on a Sunday it should actually say Meeting Sunday! 😉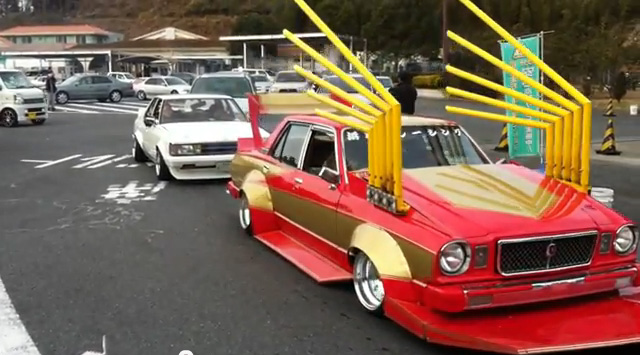 I just took a screenshot of my favorite: this Mark II which is around 3:05 of the video. (more…)
by banpei with
Normally short exhaust pipes aren't that interesting, except when they are double and yellow and mounted under a kyusha style Mark II X30/X40!


Short piped Mark II
Found at [Blacktail61]
by banpei with
Transforming model cars into zokushas is not enough for some people: they also need to compete their creations against others at the Shizuoka Hobby Show. Amazing how many people actually are transforming those model kits into almost real zokushas!

My personal favorite is the shakotan Mark II X30/X40 on SSR Mk I rims. And what is your favorite?
by banpei with
Maybe a bit different type of meeting, but these two Toyota Mark IIs actually met at work!

The Mark II GX61 with rabbit-ear fender mirrors is owned by the poster of the video while the Mark II MX41 is owned by his friend.
Found at samurai7319 @ Youtube
by banpei with
Time for a meeting picture compilation by Ultra Heaven:

Team Ultra Heaven has an amazing lineup of cars: a pig-butt C130 Laurel, Yonmeri Skyline C110, MX41 Mark II and a whale Crown MS60!
by banpei with