Some may call it pimp, but with the tsurikawas dangling from the ceiling this is definitely a bosozoku style interior: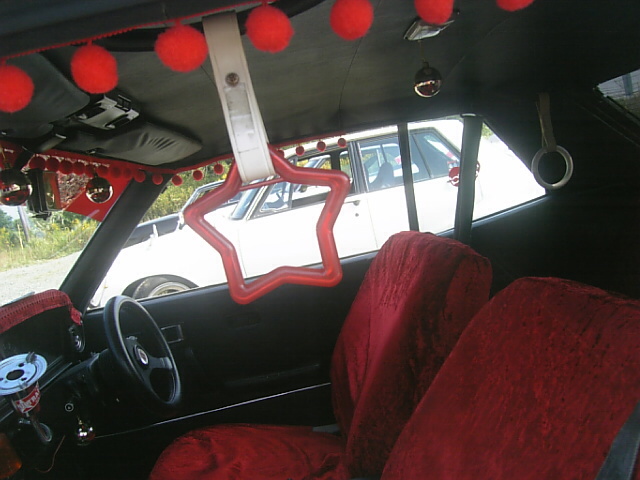 Toyota Mark II MX41 interior
The interior is from a Mark II MX41 hardtop coupe.
by banpei with
I love the way these Mark IIs do a merry-go-round in this video by gx61sedan:

Now that's what I'd call a Mark-II-go-round! 😀
BTW: If you paid attention you would have noticed one of them actually is a GX61 Cresta, so I lied! 😉
by banpei with

At an average evening on Daikoku Futo a lot of different people show up. Mostly lowriders, bippu and audiophiles are seen there, but it is not uncommon for the bosozoku gangs to stop by and have their share of the fun as well!
First of all, a nice Toyota Mark II X3 or X4:

And let's not forget the three shakotan GX71s!

And of course the bosozoku flocking in when the police arrives!

Giving a nice serenade!

And leaving…
by banpei with
Another meeting compilation by Take4Mickey:

Lots of kyusha and shakotan cars to be seen: X3/X4 Mark II, Nissan Laurels, Nissan Skylines (C210), etc.
If you think you already read this posting, you are not crazy: we accidentally posted it last tuesday. 😉
by banpei with

Last week both white_raven and Billy posted/emailed us the videos of Daijiro Inada visiting the Massuru meeting in 2005 we posted some videos of.
In the first video travels to the meeting in the bippuzoku Celsior by Daisuke Shouten. After arriving you get an highlight of the cars on the meeting. You can see a lot of the cars featured on this site, like the C330 Nissan Cedric, this MX32 Mark II, a Grachan 180sx and the third exhaust of the week!
More car spotting in the second video:

Daikiro Inada takes a ride in a 6 meter long Gloria C430 and a lowered roof chopped Century. The Toyota Century already looks like a bad zokusha when lowered, but this one with its roof chopped is the baddest of them all!
Thanks guys! This video is one of the best videos I've seen so far!
by banpei with