Apparently Tsuppari High School Rock'n Roll is a very popular song to cover. Not only the Heroes band did a cover, but also Kadota Kyohei:

And what about Rosey Rolley's version?

But the one and only original is by Yokohama Fly Silver:

Which one do you prefer?
by banpei with
Tokyo Drifter is not really a bosozoku movie, but it certainly was a big influences for the bosozoku in its time.

Tokyo Drifter shows how a Yakuza member of a deactivated gang becomes a cast out and has to survive in the back alleys of Tokyo when the boss of a rival gang targets him as a threat.
by banpei with
Ten years before Hiroshi Tachi became Toshiki takayama in Abunai Deka he played in the movie Classroom of Terror, also known as Blackboard Jungle:

The movie sure looks like fun! The storyline shown in this trailer somehow reminds me of the Eikichi Onizuka (Great Teacher Onizuka) of the 70s. Perhaps the main role was played by his father! 😉
by banpei with

Car and leisure for young. Can't add anything to that!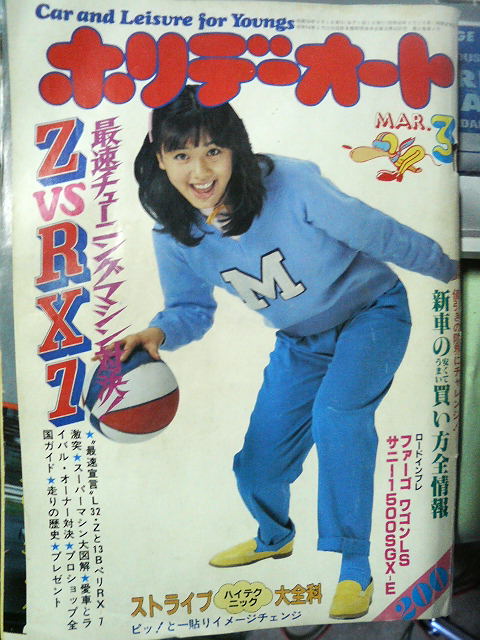 Oh! My Road Racer magazine
The coverstory Z versus RX7 sounds very interesting!
On the inside: a KPGC10, a Honda N360, a Nissan Violet and some car featuring GC211 headlights!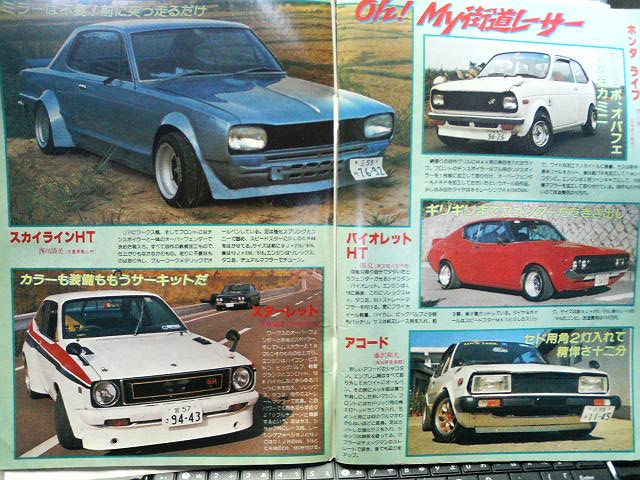 Oh! My Road Racer magazine
Now the most exciting part is this Sunny SR B110Toyota Publica/Starlet KP47 race car replica: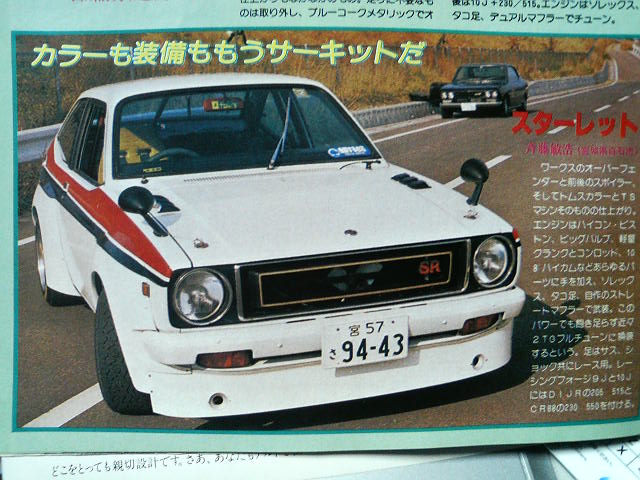 Oh! My Road Racer magazine
That's where the whole granchan started with: copies of infamous racecars!
by banpei with
What else is there to do on a sunday except to cut the rear fenders of your Skyline C210 to make room for the necessary fender extenders:

Found at [tram116rod025 @ Youtube]
by banpei with