Demon camber cars or bippu rides are not something we generally post here, but this insane Alto Works has to be shared!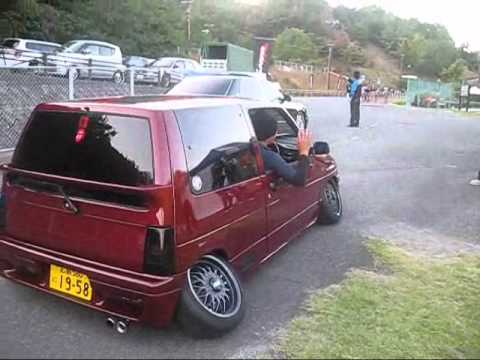 Just imagine driving this on the highway… (video on the next page!) (more…)
by banpei with

Another long series of meeting videos by jyoutou. This time he uploaded all coverage of the 2009 meeting at Shiraoi.
In the first video you can see the infamous Team Madonna Gloria:

In the second video a nicely done sharknose Mark II with a set of double exhaust pipes (takeyari), a few other Mark IIs, a Skyline C210 and many many motorcycles:

In the third video a big lineup on all cars:

Including a bippu second generation Cima Y32, followed by a pair of bippu Cedric Y32s!
The fourth video has a Team Madonna inspired Cedric 430 with grill which looks like it is from an 80s Lincoln Towncar Limo! And yet again: many many motorcycles!

Next week we will show the next four videos! If you can't wait for that, visit JYoutou's page on Youtube!
by banpei with
Another way to spend your evenings during the weekdays: go to Daikoku Futo with the whole gang and give a concert!

No bosozoku styled cars, just bikes and bippu!
by banpei with

Last week both white_raven and Billy posted/emailed us the videos of Daijiro Inada visiting the Massuru meeting in 2005 we posted some videos of.
In the first video travels to the meeting in the bippuzoku Celsior by Daisuke Shouten. After arriving you get an highlight of the cars on the meeting. You can see a lot of the cars featured on this site, like the C330 Nissan Cedric, this MX32 Mark II, a Grachan 180sx and the third exhaust of the week!
More car spotting in the second video:

Daikiro Inada takes a ride in a 6 meter long Gloria C430 and a lowered roof chopped Century. The Toyota Century already looks like a bad zokusha when lowered, but this one with its roof chopped is the baddest of them all!
Thanks guys! This video is one of the best videos I've seen so far!
by banpei with
I just couldn't stop laughing when I watched this video!
Remember Daijiro Inada visiting the bosozoku master Daisuke Shouten in part 1 and 2? (If not, don't worry: a reminder is in the video itself) Now Daisuke Shouten finished his project on the Toyota Celsior UCF11 (Lexus LS400 outside Japan) to create a bosozoku VIP car! Or should I rather say a bippuzoku car? Or even better: bippuzokusha!
Have a look at it yourself:

t is amazing what he did with the car: he extended the front and the back of the car to 6.7 meters! The front was replaced with a set of headligths borrowed from an early 80s Toyota Crown S110. He added another row of seats where the trunk used to be and at the rear he replaced the taillights with a set of a Nissan Skyline KPGC10 GT-R! A fridge is placed where the front passenger seat used to be. And I did spot a fax machine in it to make it a real VIP car while a 24cm steering wheel and a tsurikawa dangling from the ceiling to finish it off as a true bosozoku car! 😉
Fortunately enough I did manage to find two pictures of this car which were taken at the Massuru meeting in 2005:


Bosozoku style Celsior VIP car by Daisuke Shouten
Then they just pick up this girl, asking if she would like to have a ride in it. Damn, even with a bippuzoku car you can pick up girls without any trouble!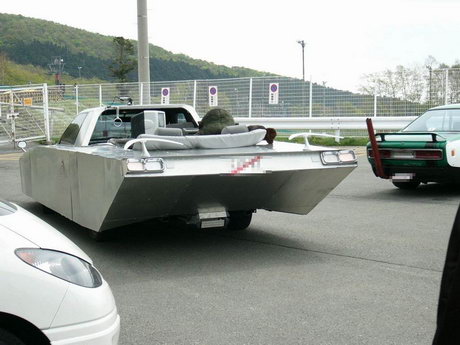 Bosozoku style Celsior VIP car by Daisuke Shouten
It is also really funny when they meet up with this limo driver at 7:53. The limo driver also drives a Toyota Celsior and can't believe that the car underneath is the same! And they also get a lot of respect from the kyusha style GX61 Cresta driver at a traffic light!
Thanks to White_Raven for finding this video! 🙂

by banpei with