A Honda Civic on SSR Mk. IIs is quite rare, but a Honda Civic zokusha is even rarer! Especially with such a zig zag exhaust: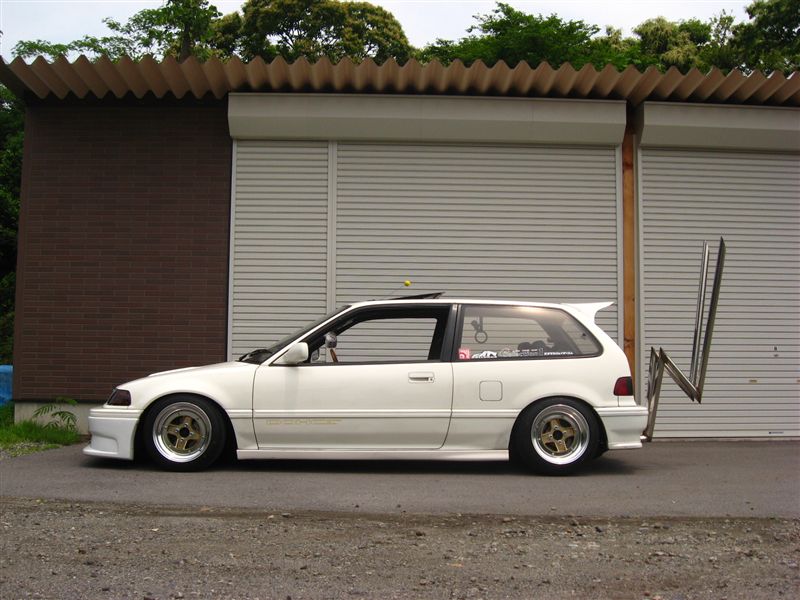 Exhaust of the week: Zig Zag Civic
Michinoku is the owner of this Civic and the modlist of his Civic is a very extensive one!
Here is another close up picture of that big zig zag exhaust: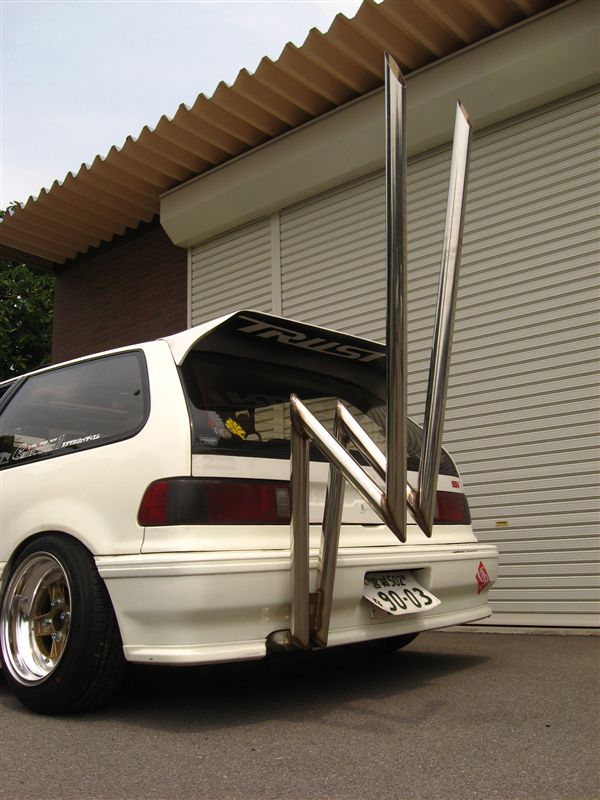 Exhaust of the week: Zig Zag Civic
I would say a damn sexy Civic! 🙂
Pictures were found on Michinoku Grand's blog (you may already know him from the HistoriX Japan pictures!)
by banpei with
I had a good laugh when I watched this stop motion animation of two bosozoku style cars being chased by the Japanese police:

The video is called Tomica "Brothers race shop". The two brothers drive a Nissan Skyline KPGC10 and a Nissan Skyline KDR30 Super Silhouette (replica) and even manage to get the military involved… The video was made by CARBOY0604 and his son. Love the way the music shifts from scene to scene. 😉
[ This is a crosspost between two of my blogs ]
by banpei with
I knew you could widen steel rims by cutting the bead and welding sheetmetal in between. With this method the rims will always be a bit weaker than before and really wide rims are not advisable to make this way. So how about using a butane gas cylinder to widen a 14 inch 5J steel rim to 13J?

by banpei with
How about an interior shot for a change? I love the huge truck shifter combined with the itsy-bitsy, teeny-weenie wooden steering wheel!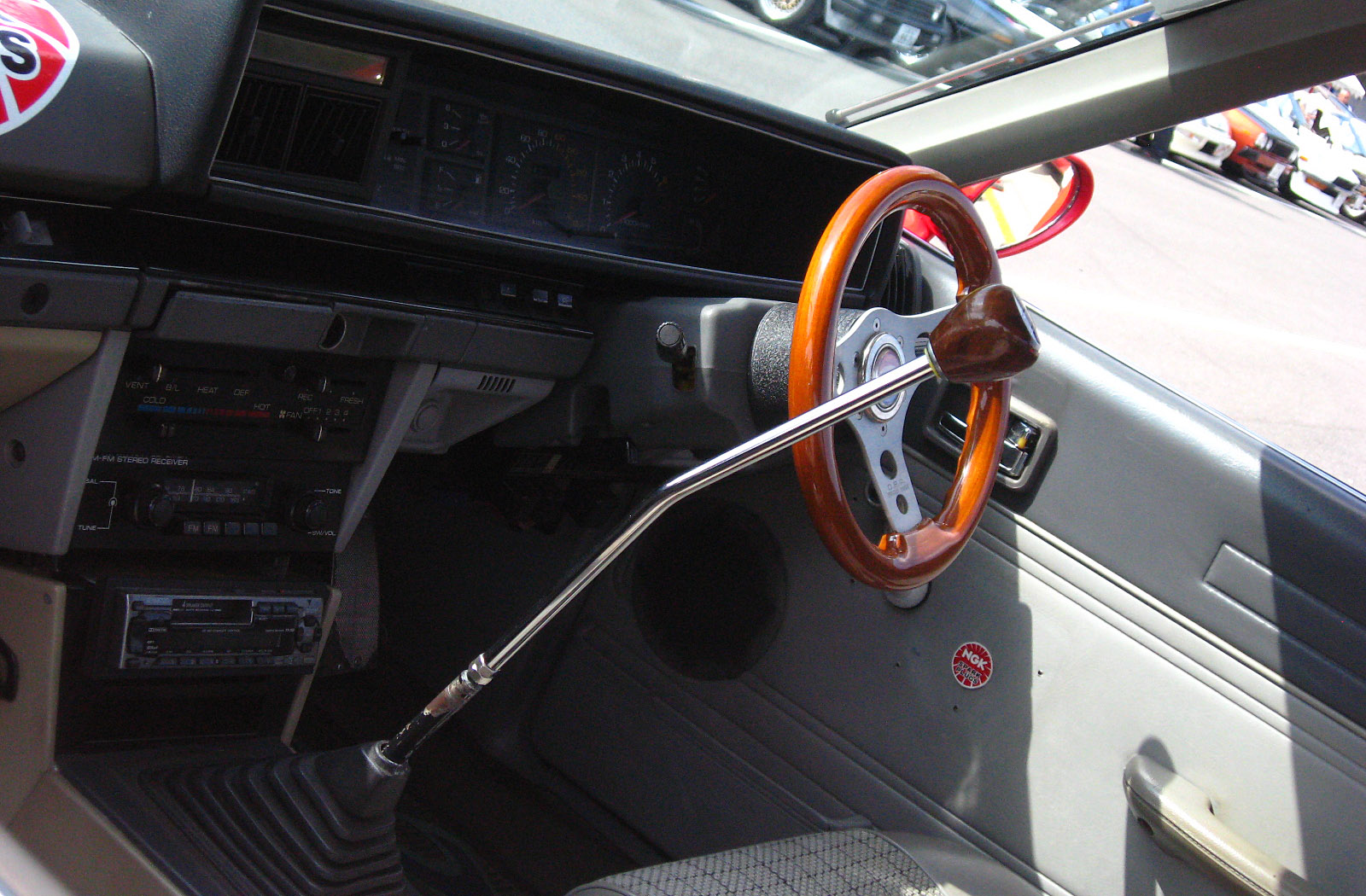 Bosozoku wallpaper: Zokusha dashboard
Right click here to set it as your wallpaper!
[Found on Grand Michinoku's photozou ]
by banpei with

Some time ago Alexi Smith posted a Nissan Skyline R32 drift missile with some random tail light replacements. I did remember from what car one of them used to be, to be exact: from the Subaru Vivio Bistro. The car itself is a quite dull retro-look spin off kei car, but of course you can make it look great by doing this to it: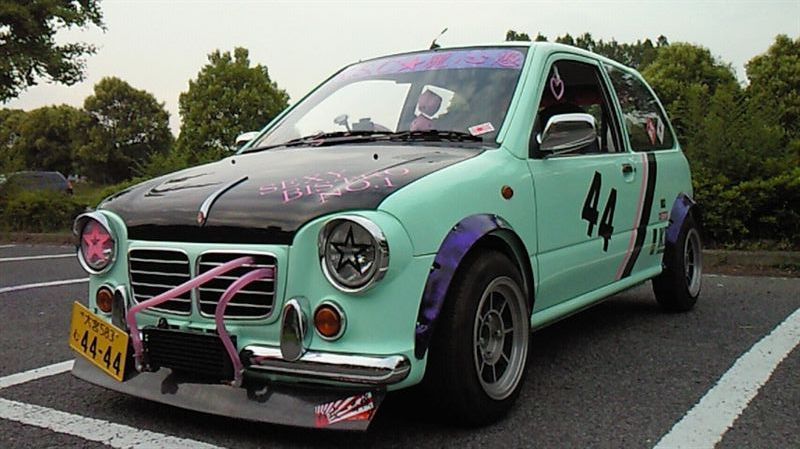 Sexy Bistro (Subaru Vivio)
Slap a set of Hayashi Streets on it, some fender extenders, a big lip, an oilcooler on the bumper and suddenly it doesn't look that boring anymore! 😉
The tsurikawa is supposed to be a Hello Kitty item, but I can't really judge from the pictures whether that is actually the case or not…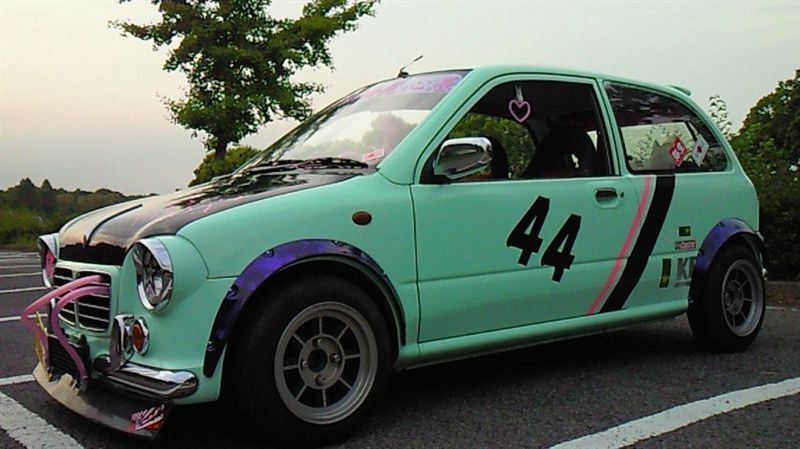 Sexy Bistro (Subaru Vivio)
Wheels are 13 inch 6J Hayashi Street (ET+13 front, ET+7 rear) with 155/65 R13 tires ballooning around them.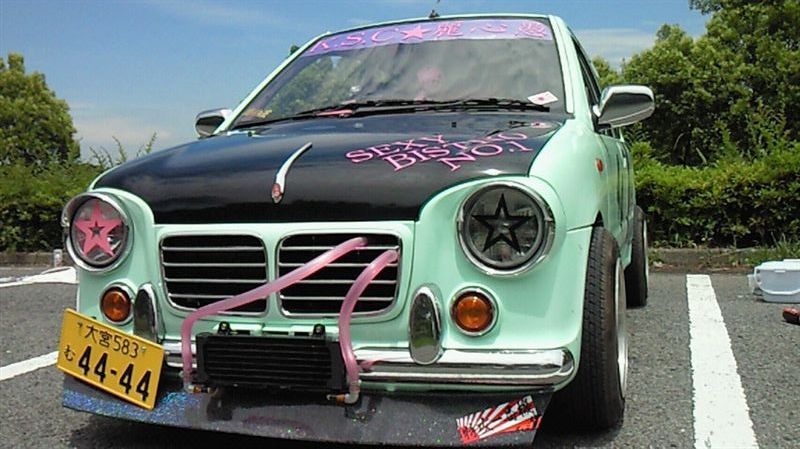 Sexy Bistro (Subaru Vivio)
And here you can see how far these not so wide wheels stick out of a Bistro without the fender extenders… Imagine how wide a 9J rims would be! 😀
I really love the tiny details they put on this car like the star shaped stickers on the headlights. Too bad there weren't any pictures of the rear of the car yet…
by banpei with