Beeoneoneoh posted some pictures of 13J wide rims on a Nissan 510. Here is one with a set of Techno Shadow rims on the 510: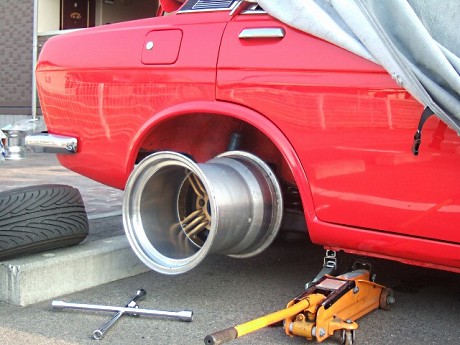 13J techno shadows on a Nissan 510
And have a look at how wide they actually are on this small Bluebird: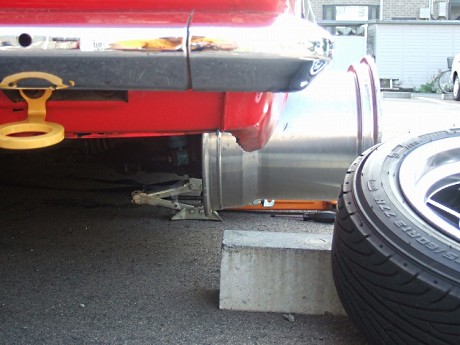 13J techno shadows on a Nissan 510
Can you already imagine the over-fenders/fender-flares going over these rims?
by banpei with
Japanese Nostalgic Car blog posted two links to great how-to's showing how to create your own sharkenose Mark II or Skyline C210 Japan!
We already featured the Skyline C210 in a deep dish feature, but the Toyota Mark II GX71 was new to us: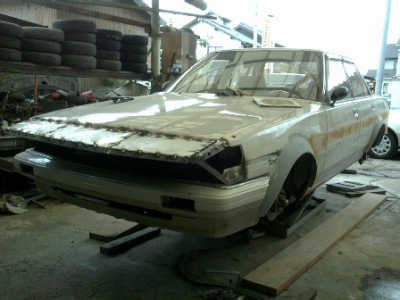 How to create your own sharknosed bosozoku style car
You can find the how-to's here:
Sharknose how-to Nissan Skyline C210
Sharknose how-to Toyota Mark II GX71
by banpei with
A meeting video by Hattoriworks of the Tokyo Auto Salon 2009:

Even though the video quality is not that good (shot from a TV??) the video is actually showing a lot of good cars: the Nissan Silvia Turbo replica (Gazelle) we featured last week is also at that meeting! 🙂
by banpei with
In my opinion the outcome was a bit unexpected! The kyusha styled Skyline Japan C210 won this week: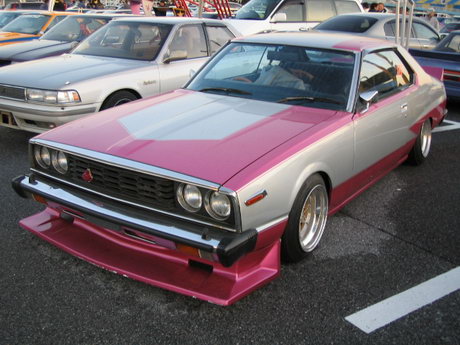 Kyusha styled Nissan Skyline C210 Japan
But probably the Celica XX was styled a bit too normal?
Winners so far:
Bosozoku style Skyline C210
Bosozoku style Fairlady 280ZX
Toyota Crown S130 with spread winged exhaust
Nissan Gloria C330 Bosozoku style
Kyusha styled Nissan Skyline C210 Japan
This weeks Sudden Death is between two Mark II GX71s: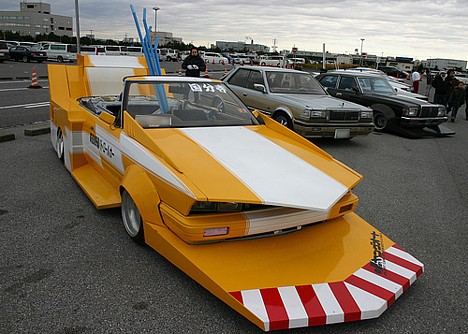 Toyota Mark II GX71 inside out exhaust
Versus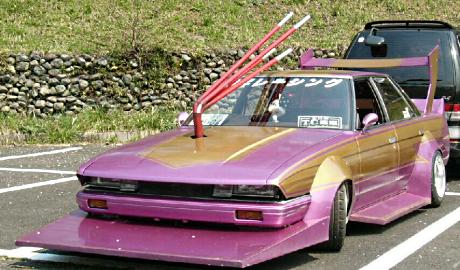 Quad piped turbo on Toyota Mark II GX71
by banpei with
This beyond grachan style bosozoku car looks weird enough. To make it even more weird it has an exhaust which looks like a sculpture in a modern art museum!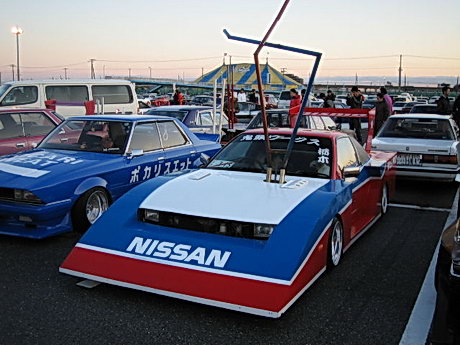 Exhausts look like a sculpture on this RPS13 180SX
We think an Nissan 180SX is underneath all these extended bodyparts. The roofline resembles the 180SX, but we will never know for sure.
by bosozoku with