Last week we already had you covered for the boring Sunday afternoons, but what would a bosozoku member do at night during weekdays?
Play the videogame Chou Saisoku! Zokusha King BU no BU (???!?????BU?BU ???????2??) of course!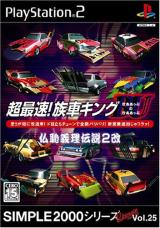 Bosozoku videogame: zokusha king
The title is roughly translated into Fastest leader! Tribecar King and the BU part means Bored Up which indicates it is about a renewed version. (second version actually)
I could not find a video of this particular game, but I think you get the idea by this (almost) identical successor:

The third car resembles a zenki Skyline R30 and looks already quite wild! The fourth car looks like a very tough C210 Skyline Japan with mad camber. Fifth car looks like a kouki Skyline R30 RS Turbo with a big lip. Sixth car looks like a Laurel C33 with a set of exhausts which would look very good in the exhaust of the week! Seventh car looks like a Gloria 430 with some carton tuning, and after that it starts to get more and more bizarre. You can even drive a bosozoku styled Ferrari 512BB and the Batmobile!
I think I need to get myself a second hand PS2 now! 😀

by banpei with