Aggressors of Dark Kombat was a fighting game released by SNK in 1994 and went a few steps beyond their normal fighters. As the name already suggests: the game uses the K to make a wink to the Mortal Kombat.
The game itself was more targeted to the street brawling youth, hence all the references to the bosozoku in it. In this fragment you can spot in the background a shark nosed Toyota Soarer GZ10, a Toyota Crown MS125, a Toyota Cresta GZ71 and a Toyota Celica XX GX61 with oil coolers mounted on the bumper! Makes me wonder if they got some cash from Toyota for inserting their whole 80s lineup…

Now where can I find a second hand Neo Geo? 😉
by banpei with
Last week we already had you covered for the boring Sunday afternoons, but what would a bosozoku member do at night during weekdays?
Play the videogame Chou Saisoku! Zokusha King BU no BU (???!?????BU?BU ???????2??) of course!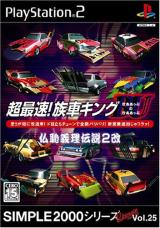 Bosozoku videogame: zokusha king
The title is roughly translated into Fastest leader! Tribecar King and the BU part means Bored Up which indicates it is about a renewed version. (second version actually)
I could not find a video of this particular game, but I think you get the idea by this (almost) identical successor:

The third car resembles a zenki Skyline R30 and looks already quite wild! The fourth car looks like a very tough C210 Skyline Japan with mad camber. Fifth car looks like a kouki Skyline R30 RS Turbo with a big lip. Sixth car looks like a Laurel C33 with a set of exhausts which would look very good in the exhaust of the week! Seventh car looks like a Gloria 430 with some carton tuning, and after that it starts to get more and more bizarre. You can even drive a bosozoku styled Ferrari 512BB and the Batmobile!
I think I need to get myself a second hand PS2 now! 😀

by banpei with