Super Silhouette racer replicas have always been a major influence in the kaido racer scene. This rebuilt Silvia S12 is clearly not a 100% accurate replica but it will do the job just fine. 😉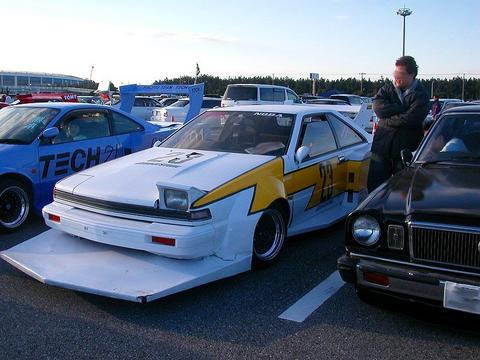 The big wedge shaped front air dam is a lot larger than the original and the roofline is obviously not S110 (the S12 Super Silhouette was actually the previous S110 with the S12 front face) but S12.
Found at cad5200d9k
by banpei with
Okay, this is not bosozoku style, but it is bosozoku related: this Nissan Silvia Turbo S12 Super Silhouette is on of the Super Silhouette cars that ruled the tracks during the early 80s.
These Super Silhouette cars have influenced the Bosozoku styling a lot: that's where the boxy widened bodyshapes, spoilers, lips and sharknoses come from.
Enjoy this video all about the Nissan Silvia Turbo Super Silhouette:

by banpei with