Not a very recent meeting, but nevertheless a very special meeting: this video was shot in 1986 (Showa 61) and gives a good insight in the taste they had back in the 80s!

You can mostly see old Laurels C130, Skyline C10s and C110s, Fairlady 240Zs and occasionally a bit more modern zokusha like the RX7 SA22. 🙂
In this second video the crowd gets a small visit by the police:

And in the final part involves a lot of window sitting and flag waving:

by banpei with
No idea if this RX7 SA22 facelift model actually is a real racer or not, but it surely does catch that 80s bosozoku style: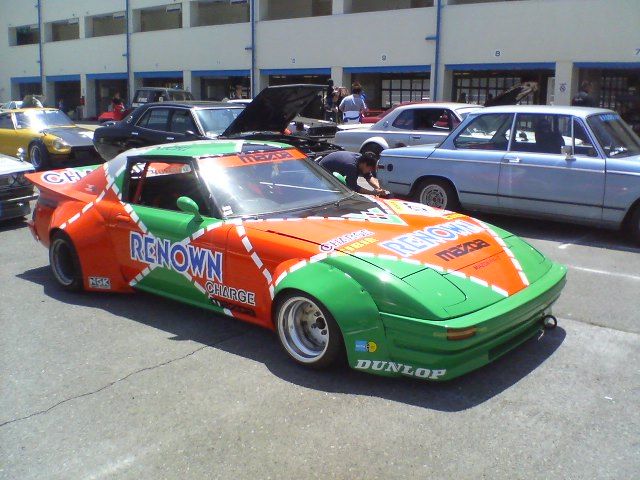 Renown Mazda Savanna SA22
The deep dish SSR Mk 1 rims complement the wide fenders just as much as the surrounding cars complement the whole car! Brilliant!
BTW: Renown was the main sponsor for the Mazda 787B
by banpei with
And more videos and pictures are coming in slowly! This set of videos was uploaded by Hattoriworks and shows the long road to the Tokyo Auto Salon 2010:


Nice slammed and lengthened Toyota Century! And if I'm not mistaken the nice Laurel C130 is no other than our badboy Laurel C130 #1 with a set of wide fenders!
The arrival at TAS 2010:

Nice Mazda Cosmo AP/RX5 and you got to love that bonkers first gen SA22 RX7!

by banpei with
Zeb from Riverside posted a couple of zokusha RX7s from his archives and this first generation RX7 was one of them:


Bad plumbing RX7
The exhaust really looks like someone did a bad plumbing job (Mario?). On the other side: the front fenders, MR lookalike rear and taillights swap make the exhaust blend in the total look of this RX7. 😉
by banpei with