I had a good laugh when I watched this stop motion animation of two bosozoku style cars being chased by the Japanese police:

The video is called Tomica "Brothers race shop". The two brothers drive a Nissan Skyline KPGC10 and a Nissan Skyline KDR30 Super Silhouette (replica) and even manage to get the military involved… The video was made by CARBOY0604 and his son. Love the way the music shifts from scene to scene. 😉
[ This is a crosspost between two of my blogs ]
by banpei with
I just couldn't stop laughing when I watched this video!
Remember Daijiro Inada visiting the bosozoku master Daisuke Shouten in part 1 and 2? (If not, don't worry: a reminder is in the video itself) Now Daisuke Shouten finished his project on the Toyota Celsior UCF11 (Lexus LS400 outside Japan) to create a bosozoku VIP car! Or should I rather say a bippuzoku car? Or even better: bippuzokusha!
Have a look at it yourself:

t is amazing what he did with the car: he extended the front and the back of the car to 6.7 meters! The front was replaced with a set of headligths borrowed from an early 80s Toyota Crown S110. He added another row of seats where the trunk used to be and at the rear he replaced the taillights with a set of a Nissan Skyline KPGC10 GT-R! A fridge is placed where the front passenger seat used to be. And I did spot a fax machine in it to make it a real VIP car while a 24cm steering wheel and a tsurikawa dangling from the ceiling to finish it off as a true bosozoku car! 😉
Fortunately enough I did manage to find two pictures of this car which were taken at the Massuru meeting in 2005:


Bosozoku style Celsior VIP car by Daisuke Shouten
Then they just pick up this girl, asking if she would like to have a ride in it. Damn, even with a bippuzoku car you can pick up girls without any trouble!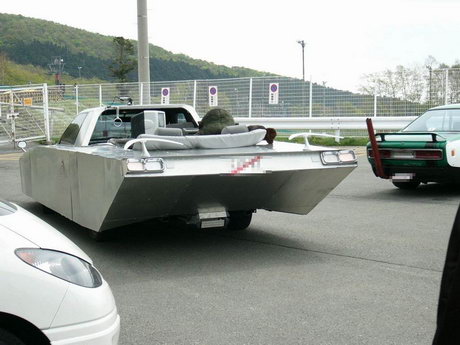 Bosozoku style Celsior VIP car by Daisuke Shouten
It is also really funny when they meet up with this limo driver at 7:53. The limo driver also drives a Toyota Celsior and can't believe that the car underneath is the same! And they also get a lot of respect from the kyusha style GX61 Cresta driver at a traffic light!
Thanks to White_Raven for finding this video! 🙂

by banpei with