Remember the Lawswon Daihatsu Mira? The same person created a Daihatsu Move toilet zokusha now: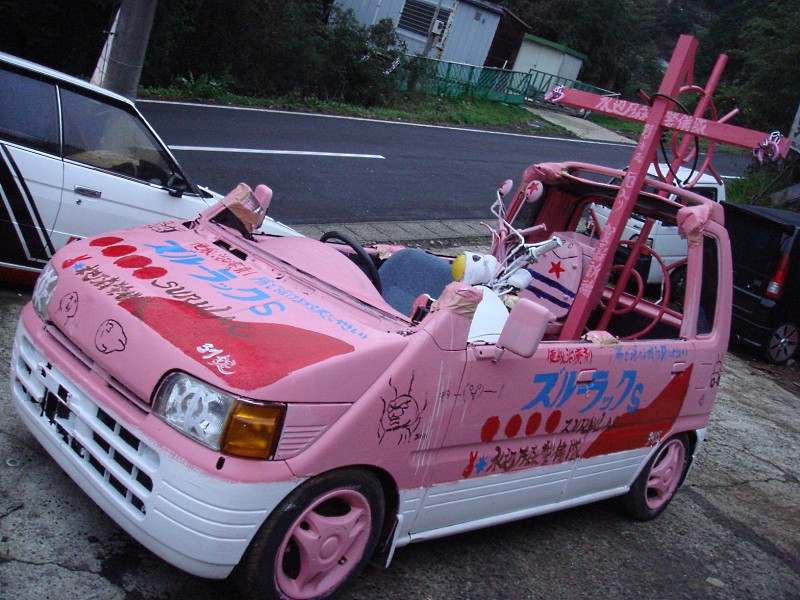 Daihatsu Move toilet zokusha
And as you can see some key elements are returning: the roofchop, the big cross and the blow up doll…
Nice thing about the current auction is that they provided a big gallery with several pictures. So they started out with an old beaten up Move: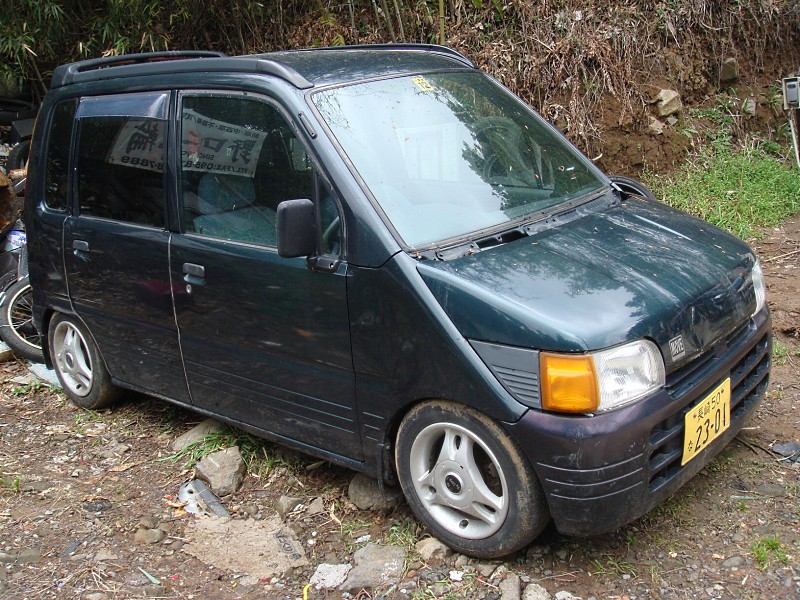 Daihatsu Move toilet zokusha
One beaten up Move: check!
Then roofchopped it: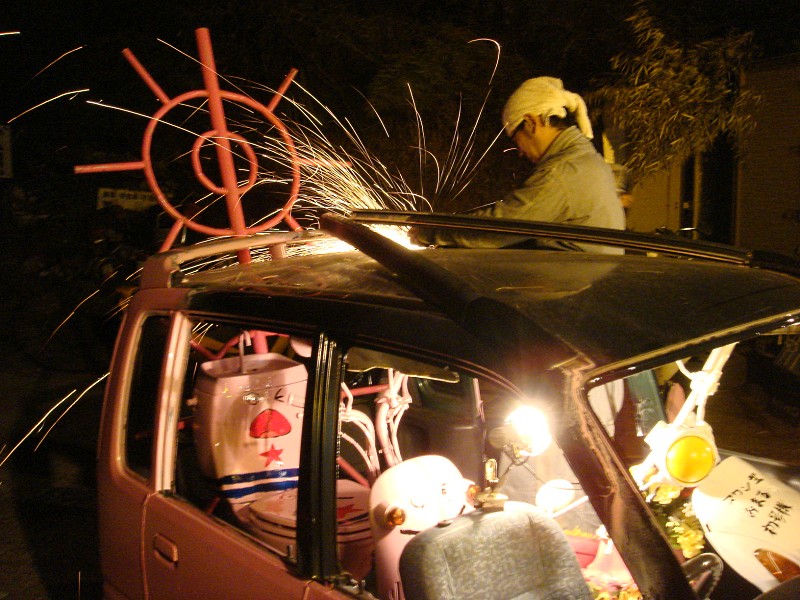 Daihatsu Move toilet zokusha
One rooftop: check!
And then added scooters, toilets and other accessories to it: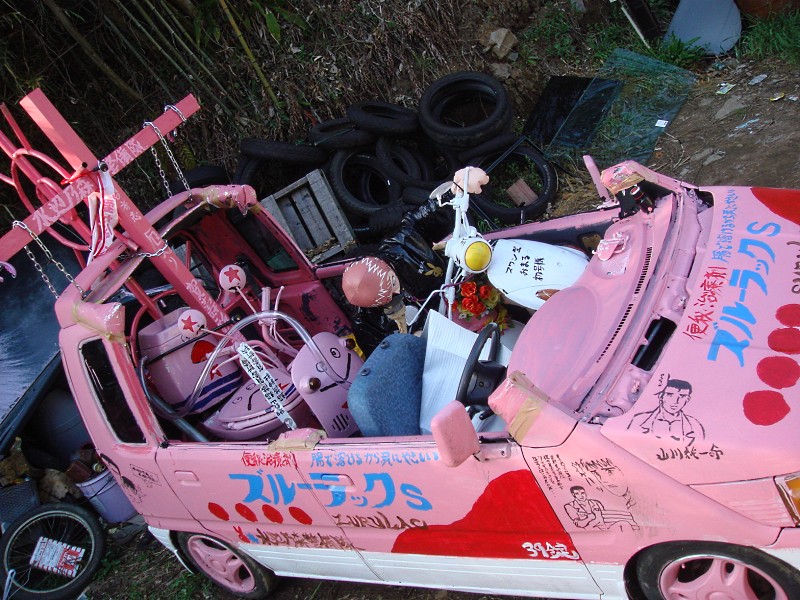 Daihatsu Move toilet zokusha
Wacky accessories: check!
The great thing is that you can actually buy it on Auctions Yahoo for a mere 1,900,000 yen (21,000 dollars!). You can find the action here: Daihatsu Move zokusha
by banpei with
James sent us this picture of a Daihatsu Move with massive camber: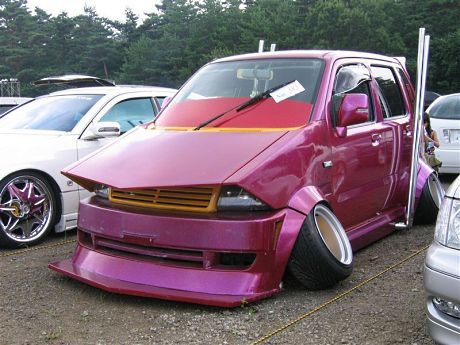 Bosozoku style Daihatsu Move with massive negative camber
He writes: surprised you guys didnt post this the other day it pops up in nearly ever camber thread on any forum
Yep, we did spot it but only after we posted the Bosozoku kei cars: Daihatsu Move special. Thanks for reminding us! 🙂
by banpei with

For some time I've been collecting pictures of Kei Bosozoku cars and since we already covered a lot of rare and popular bosozoku cars the Kei car collection can be a nice change!
For people who do not know what a kei-car is: a kei car (or K-car) is the English name for keijid?sha (????) which literally means light automobile. These smaller cars have a lot of advantages due to lower tax and insurance. Also in some areas (like Tokyo) it is exempted from the parking space rule which require you to have a (paid) parking space for your car! They are limited in size, displacement and since 1990 in maximum output. That last one was because several manufacturers were already delivering cars with 62HP out of a 550cc supercharged engine. In return the Japanese government stretched the displacement to 660cc.
The current limitations are:
| | |
| --- | --- |
| Max width: | 1.48 meter |
| Max lenght: | 3.4 meter |
| Max height: | 2 meter |
| Max displacement: | 660 cc |
| Max output: | 63hp |
We start with this great second generation Daihatsu Move: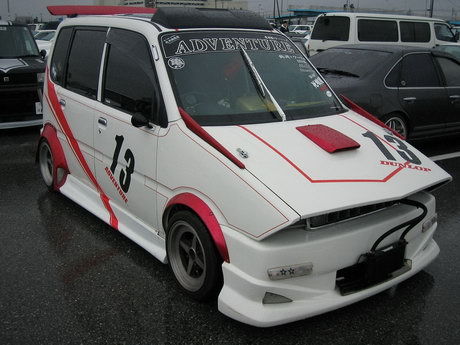 Bosozoku kei car Daihatsu Move
As you can see the front has a sharknose, but if you compare it to the original nose almost everything has been redone! The fenders are custom, the bonnet is custom and if you look closely to the headlights you will notice a great resemblance with the Toyota Crown S140 Royal Saloon grille and foglights!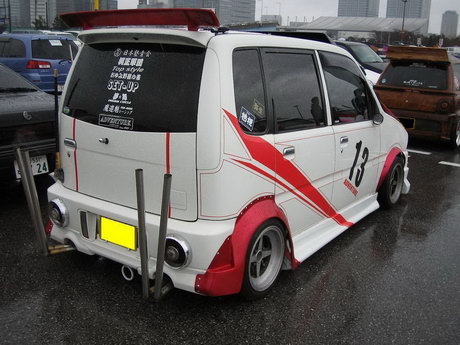 Bosozoku kei car Daihatsu Move
Also the back had some modifications: retro fitted Skyline taillights while its own taillights have been disconnected and blinded. It also features a nice set of quadruple exhaust pipes!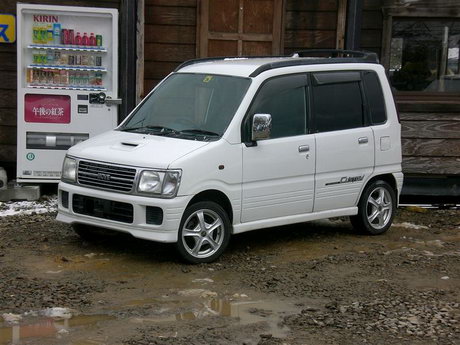 First generation Daihatsu Move Custom
The first generation Daihatsu Move was quite well known as the phonebox on wheels. Just tilt your head 90 degrees and you know why!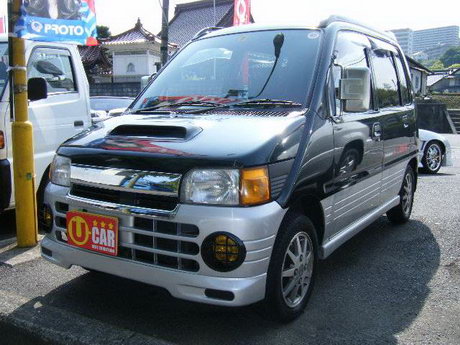 First generation Daihatsu Move RS-XX
Abroad it featured a quite capable engine, but on its homeland Japan it only featured the 660cc 3 cylinder engine with an output of 54HP. Not long after its release it got upgraded with the 15 valve EF-DEM and EF-DET in the RS and RS-XX trims. The EF-DEM was a low pressure turbo charged engine with an output of 60HP while the EF-DET had a intercooled high pressure turbo charger and an output of 63HP. The last one tuned to stay just within the Kei specifications. It doesn't take much to get more out of those two engines. 😉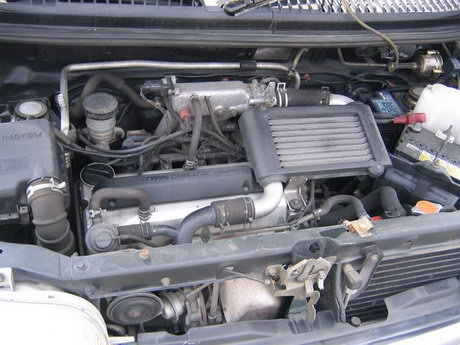 EF-DET 15 valve engine with turbo intercooler
If we look at the original second generation Daihatsu Move it looks just as boring as the first one, despite being designed by Giorgetto Giugiaro. But there was also the Move Custom with a slightly more acceptable design. In my opinion the third and fourth generation Moves are the best looking, especially if they are slightly tuned like this one: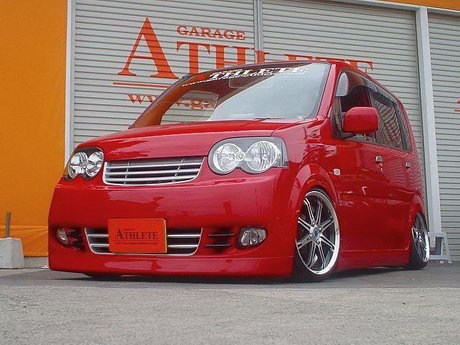 Third generation Daihatsu Move tuned by garage Athlete
Kei cars are very fun cars to turn into bosozoku cars. On one hand they mock the larger saloons and sports cars and on the other hand they are so cheap that it should not cost too much to turn it into something beautiful! The Move is an excellent example how to make something beautiful out of a very boring and dull car!
by banpei with