Ultra Heaven just uploaded a video of a meeting at the Akiyoshidai plateau (north west of Yamaguchi City) in the Yamaguchi Prefecture. I didn't know there were that many members in the Ultra Heaven team!

BTW: I love the low swimming kujira Crown!
Found at [Ultra Heaven @ Youtube]
by banpei with
A small change to the deep dish and stretched concepts: how low is your ride? In other words: a regular that features shakotan cars.
In this kick-off a Toyota Crown MS80 lowered so much that these two guys go down on their knees to check it out: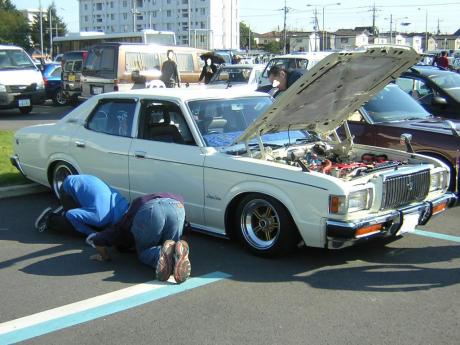 How low is your ride?
Note that the Crown is sitting on a pair of five-spoke Techno Shadows. Uber rare!
Found at [RCCT TE27]
by banpei with