Jameson sent me a message that I should have a look what he did with his Cressida MX63. When I opened up his blog I was amazed by his accomplishment: he transformed the MX63 into a zokusha and even welded a sharknose on it!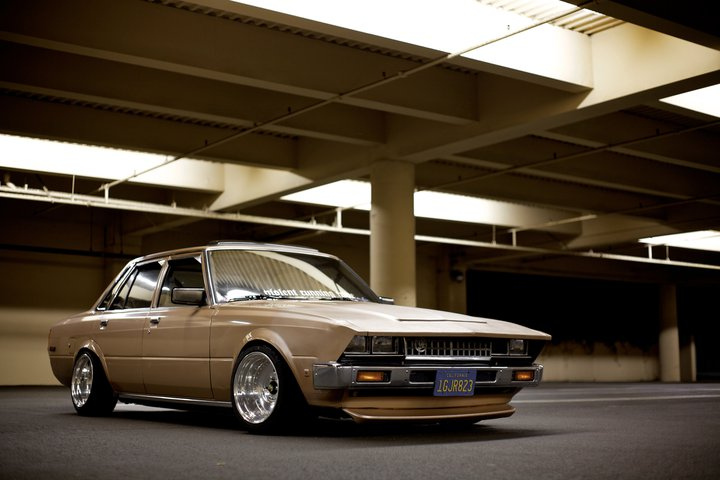 Sharknose Cressida MX63
An amazing job if you take into consideration that this is what it looked like when he bought it a couple of months ago: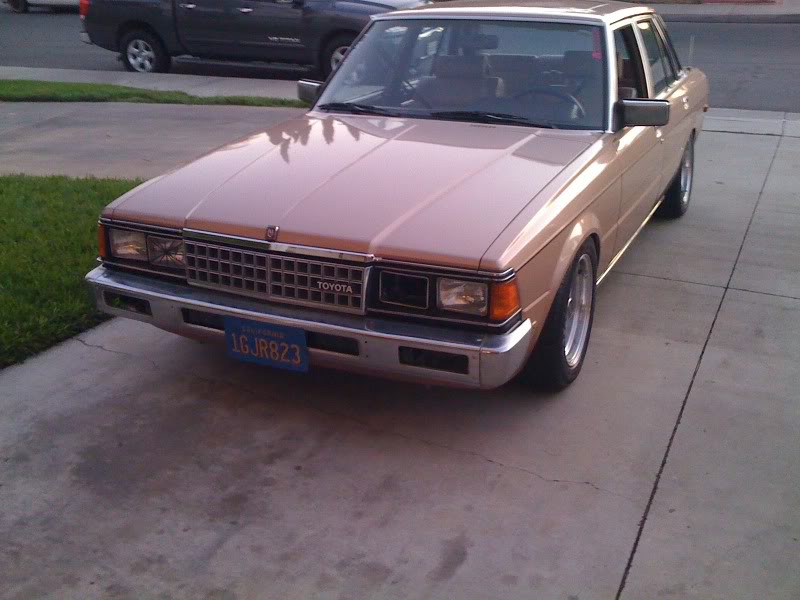 Sharknose Cressida MX63
Oh and the MX63 is not a Cressida anymore, it is called a Mark II nowdays: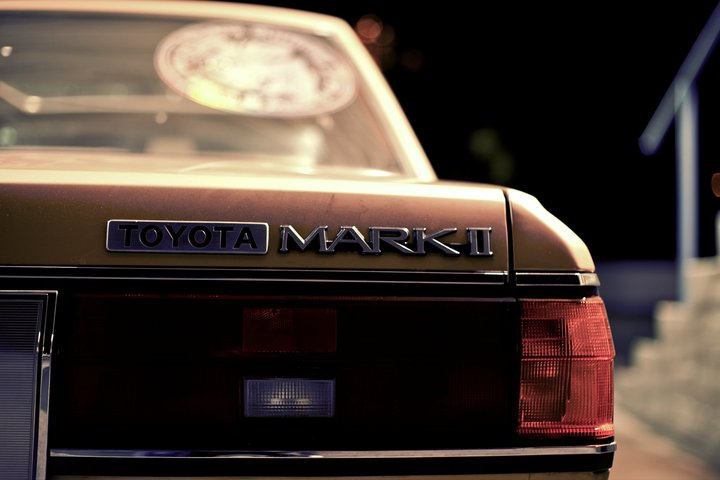 Sharknose Mark II MX63
I also like this quote on his blog:
In my dads words… "YOU RUINED IT!!!" hahaha
XD
Check out his blog for more pictures and updates: totallyirrelephant
by banpei with
Some may call it pimp, but with the tsurikawas dangling from the ceiling this is definitely a bosozoku style interior: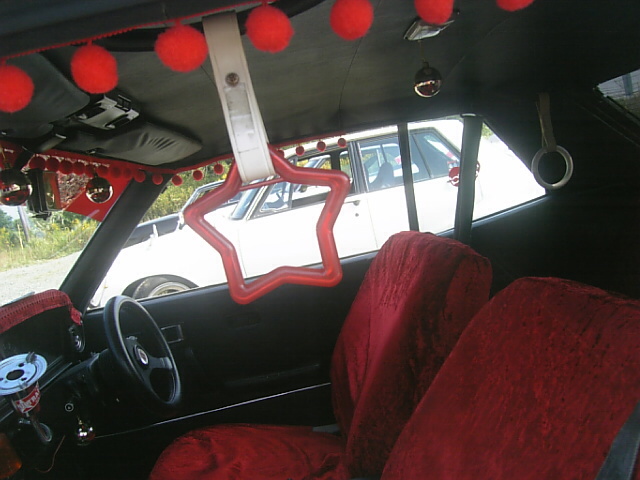 Toyota Mark II MX41 interior
The interior is from a Mark II MX41 hardtop coupe.
by banpei with
This week we feature the first of the popular Mark II series: the Corona Mark II T60/T70 series. This Corona Mark II coupe may not be a GSS coupe but it surely does look well under that bosozoku skin: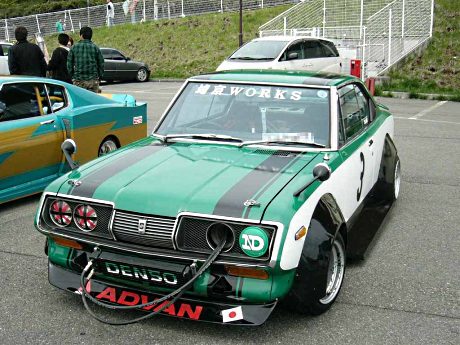 Bosozoku style Toyota Corona Mark II coupe RT70
Eventhough the later Mark II models are immensively popular as zokusha the first Corona Mark II series is not popular at all! So far this is one out of two Corona Mark IIs we ever encountered.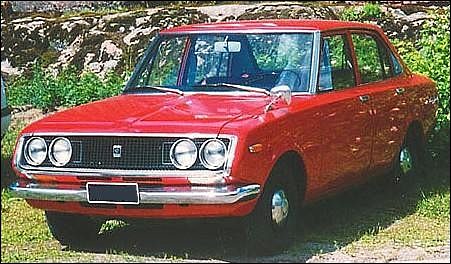 Factory stock zenki Corona Mark II RT60
The Corona Mark II was basically a model designed to fit between the middle class Corona and the upper class Crown. It was only slightly larger than the Corona but it did have a lot of luxuries only to be found in the Crown, like better seats and larger engines. The car was produced as sedan, wagon, coupe and hardtop coupe. The sedan and wagon look very much alike the Corona T40/T50 (a bit dull) while the coupes are sleekly styled after late 60s American cars.

Factory stock kouki Corona Mark II RT62
The Corona Mark II engine range started with the 1.5 liter 2R and ended with the 2 liter 18R. Eventhough normally bigger is better this did not apply to the Corona Mark II: it featured the 10R engine which got later renamed to the 8R-G. If you are a Toyotaku the G typing should already ring a bell: it means twincam (DOHC) with sidedraft carburetors!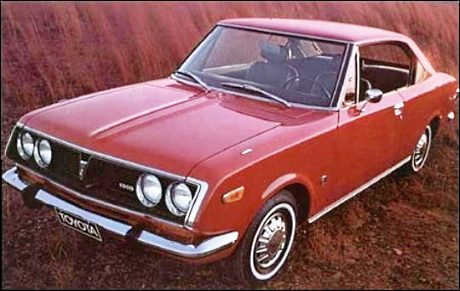 Factory stock Corona Mark II Coupe RT72
The 10R/8R-G was a 1.9 liter engine and was capable of producing 140HP and was placed in the top of the range Corona Mark II: the RT75 GSS hardtop coupe, which after the facelift and 8R-G renaming got the RT72 designation. The GSS was mated with a 5 speed gearbox and weighted only 1050 kg so it had an amazing power to weight ratio for its era: 7.5 kg/hp (16.5 lbs/hp), that is more than the 1969 MGB was capable of! Well the 3 liter MGC came near these figures but it had 1.5 times as big displacement as the Corona Mark II! The Corona Mark II GSS was capable of reaching 200 km/h and doing the quarter mile in 16.60 seconds! Amazing performance for a factory stock car in the late 60s!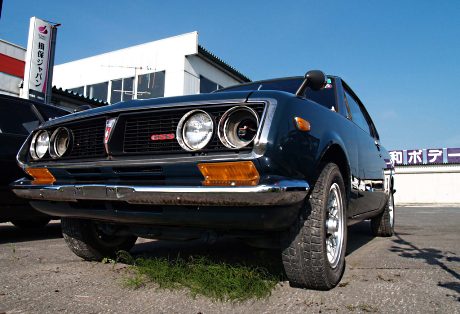 Corona Mark II GSS Hartop Coupe RT75
Even though examples of bosozoku styled Corona Mark IIs are really hard to find it don't think it was an impopular zokusha during the early 80s. The reason it is a rare find nowadays is mainly because most of them are too far gone!
by banpei with
Japanese Nostalgic Car blog posted two links to great how-to's showing how to create your own sharkenose Mark II or Skyline C210 Japan!
We already featured the Skyline C210 in a deep dish feature, but the Toyota Mark II GX71 was new to us: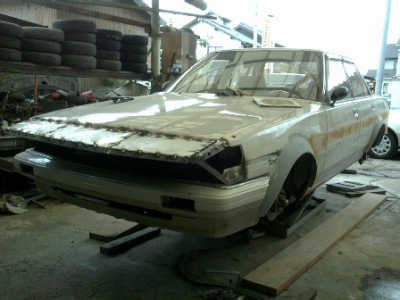 How to create your own sharknosed bosozoku style car
You can find the how-to's here:
Sharknose how-to Nissan Skyline C210
Sharknose how-to Toyota Mark II GX71
by banpei with

This weeks highlight is the Toyota Mark II X3/X4. The bodystyle is very distinct and can easily be recognized between all other bosozoku cars. A good example is this really nice Shakotan style Mark II X3: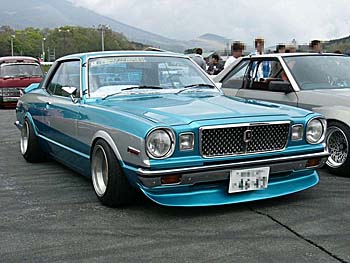 Shakotan style Toyota Mark II X3
This Shakotan styled Mark II really shows how this almost stock car can be made very beautiful by simply adding two tone paint, a set of fat stretched tires and lowering the car till the ground.
The Mark II is a very popular model because it has very American styling, like the cokebottle lines and its grille and headlights are more British. This combination is ideal for the early 80s Granchan style.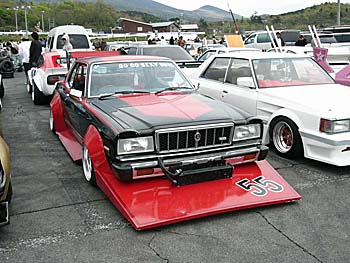 Bosozoku style Toyota Mark II X4
This Bosozoku styled example has it all: extra wide fenders, big chin spoiler, oil cooler, changed (square) headlights and a very big wing on the trunk!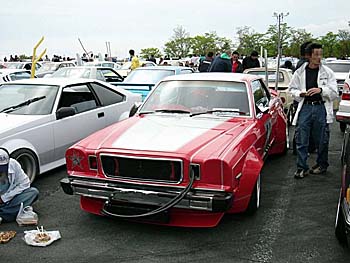 Bosozoku style Toyota Mark II X3
No headlights at all? Is that road-legal in Japan? Or are the headlights hidden somewhere? Then again: those big exhausts are not road-legal either…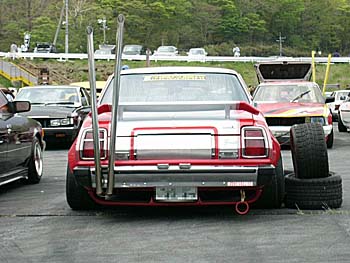 This really shows how beautiful the Mark II rear can be with widened fenders, stretched tires and a big exhaust pointing high in the air.
The first Mark II was originally meant as a Corona model between the Crown and the normal Corona, hence the Mark II tag.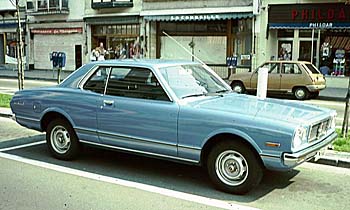 Factory stock Toyota Cressida MX41
The X3 and X4 are the third generation of the Mark II (shouldn't it be called Mark IV then? 😉 ) and was sold as the Toyota Cressida overseas.
The difference between the X3 and the facelifted X4 are minor: only the grille and foglights are a tiny bit restyled. I couldn't find a clear factory stock X3 picture, so you have to compare it with one of the Bosozoku styled cars. 😉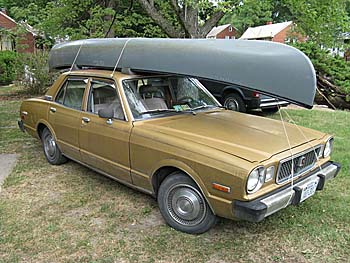 Factory stock Toyota Cressida MX41
The Cressida's and Mark II differ only in engines: the European version had the high performance 18R engine while the American version had the older 4M engine. In Japan they had a wide variety in engines: 1L, 1M, 4M, 16R, 18R, 21R, 3T, 13T.
Only the 4M and 18R are true worthy engines for this car: the 4M because it is a SOHC inline 6 and has a big displacement and gives a smooth ride. The 18R because it is a high performance DOCH inline 4 with fuel injection and creates a sporty ride.
The X3 and X4 had an A43DL 4-speed automatic optional. This automatic had an overdrive and an overdrive lockout. Nowadays this sounds not like a big deal with all those 7 and 8 speed automatics, but back then the overdrive lockout was a major improvement.
Personally I would love to own a 4 door X3/X4 myself as a daily driver and slam it to the ground shakotan style. 😉
by banpei with