Dino Dale Carbonare from Speedhunters briefly showed some pictures of this Cresta GX71 at the Nagoya Exciting Car Showdown held last weekend. Yesterday gogo6171 posted a short video about the car on Youtube with some nice revving action!

I like the subtile zokusha references on this kyusha kai Cresta: the two-tone zig-zag lines, deep dish SSR MK. III wheels and the old school lip under the front bumper!
Found at [gogo6171 @ Youtube]
by banpei with
Of course we can't leave out this amazing Exhaust champion: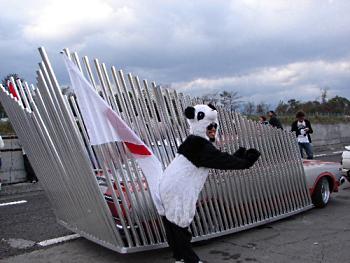 Bosozoku Exhaust champion of the world!
It may be hard to see, but the car is most probably a Toyota Cresta GX71 or JX71, which is on the same platform as the one below. In contrary to the car the driver has a panda paint scheme…
You can see the car in this movie as well:


The big question remains: how do they get in that car??
by banpei with