I never figured the Nissan Maxima PU11 could look great at all, but this particular zokusha proves me wrong: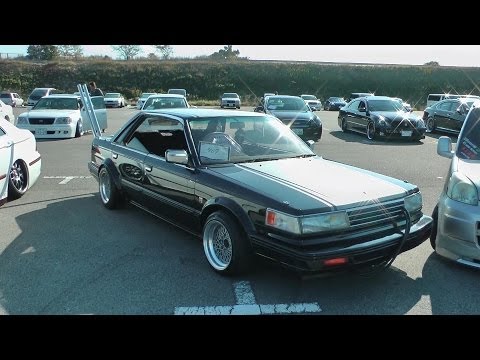 Video can be found on the next page: (more…)
by banpei with
Amazing what you can do with a Kenmeri Skyline, Hakosuka Skyline, Fairlady Z, some photoshop skills and fooling around with different JDM styles:

I especially love the Grand Champ Hello Bosozoku style! 😉
Direct link to video: Japanese classic car Skyline Ken?Mary ???? JDM ?? illustration
BTW: this is a crosspost with Banpei.net
by banpei with
Aggressors of Dark Kombat was a fighting game released by SNK in 1994 and went a few steps beyond their normal fighters. As the name already suggests: the game uses the K to make a wink to the Mortal Kombat.
The game itself was more targeted to the street brawling youth, hence all the references to the bosozoku in it. In this fragment you can spot in the background a shark nosed Toyota Soarer GZ10, a Toyota Crown MS125, a Toyota Cresta GZ71 and a Toyota Celica XX GX61 with oil coolers mounted on the bumper! Makes me wonder if they got some cash from Toyota for inserting their whole 80s lineup…

Now where can I find a second hand Neo Geo? 😉
by banpei with
This video is a small part of an eighties Japanese TV series. I love that cucaracha horn!

Via Shakotan Jam!
by banpei with
These three guys from Sapporo roofchopped their insanely luxurious Cedric Y30 back in 1996:

It looks so great that I wonder why Nissan never took the effort of featuring a carbio Cedric in their lineup.
by banpei with