Some of you may already have noticed, but today we passed the 2000 facebook likes! Time to share it with your friends!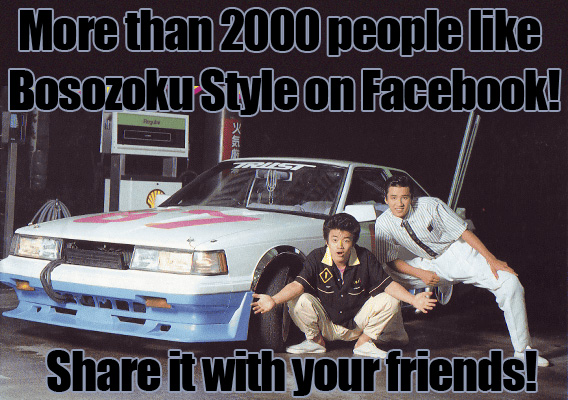 More than 2000 facebook likes!
by banpei with
Some of you may already have seen the shop link in the menu, but if you haven't: look at the right! 😉
Now available in the Bosozoku Style shop: stickers!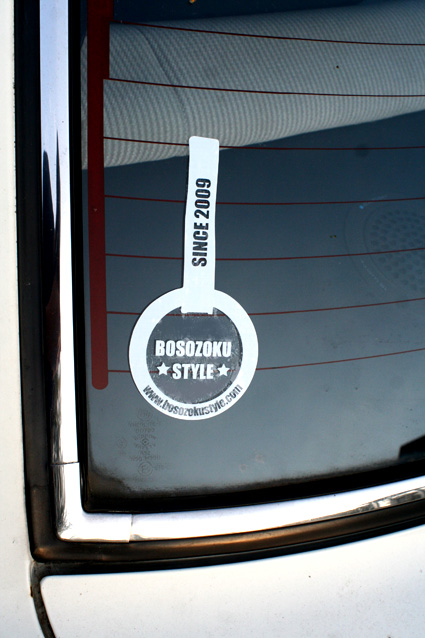 Bosozoku style stickers
They cost only 3.50 euros, so that's next to nothing! 🙂
Here another view of how big they are compared to the rear window of my Carina: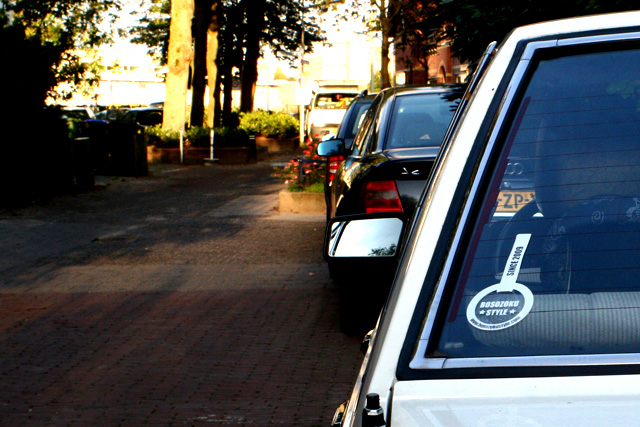 Bosozoku style stickers
You can order them right here!
by banpei with
This bosozoku styled Toyota Corolla Levin AE86 (kouki) was found by xJohnx in a Japanese wreckers yard: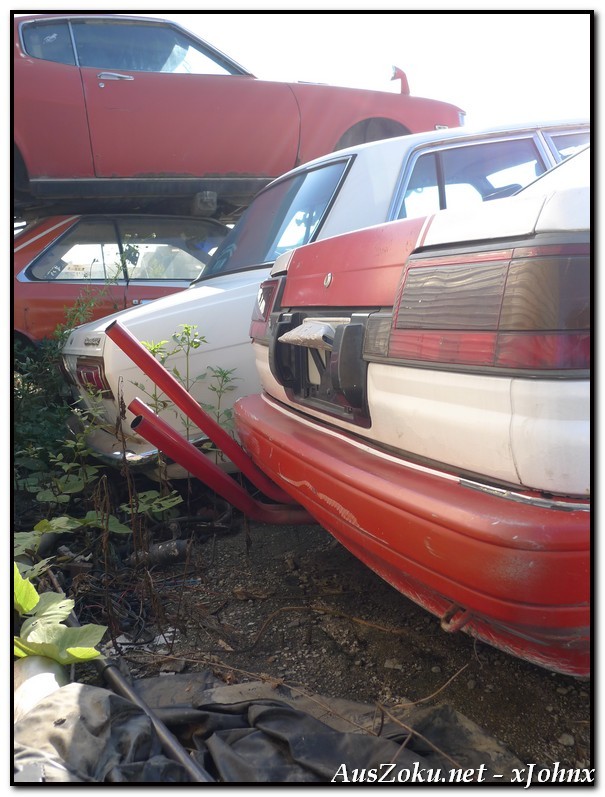 Bosozoku styled Toyota Corolla Levin AE86
I have limited specs on the car but I can tell you it's a CA18 running 14×11's with 185/60 all round, long nose (aka the shark nose), works fenders (wide over fenders) & the suspension is running on bump stops all round.
If you know the AE86 well enough you would know that 11J is VERY wide for that car and running on bump stops is groundscrapingly low! Cheers on the previous owner for that courage!
Also looking at this picture of the AE86 it becomes clear how many lines the AE86 body shares with the MZ10 Soarer! It all becomes clear when you compare this sharknosed AE86 with another sharknosed Soarer!
The owner still has plans to make the car running again, so there is always hope it will ride again!
Found on xJohnx's blog through 86ers
by bosozokuadmin with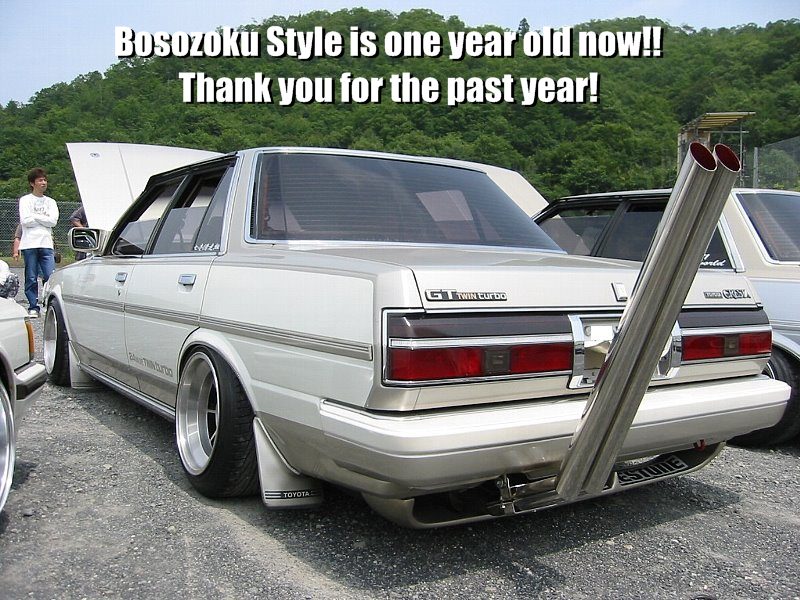 Bosozoku Style is celebrating its first birthday today!
About one year ago I decided to actually do a plan I had for a long long time by then: open up a blog about bosozoku styled cars! So I picked and registered a domain and started wrote the first blog item on January 27th 2009.
Back then I was still helped by Jeroen and we made the first actual posting together of a mildly styled Cresta GX71 (which he called a Cressida back then) with a huge double piped exhaust, also posted on the 27th.
And where are we now? Well, we created a Facebook fan page shortly after we started and today we even passed the 700 fans! Let's see if we can grow to the 800 fans in the upcoming month! We also got a Twitter account with almost 90 followers which can keep you up to date with our latest posts and news!
Thanks for the help back then Jeroen! And thank you all for reading Bosozoku Style during the past year!
by banpei with
I just couldn't stop laughing when I watched this video!
Remember Daijiro Inada visiting the bosozoku master Daisuke Shouten in part 1 and 2? (If not, don't worry: a reminder is in the video itself) Now Daisuke Shouten finished his project on the Toyota Celsior UCF11 (Lexus LS400 outside Japan) to create a bosozoku VIP car! Or should I rather say a bippuzoku car? Or even better: bippuzokusha!
Have a look at it yourself:

t is amazing what he did with the car: he extended the front and the back of the car to 6.7 meters! The front was replaced with a set of headligths borrowed from an early 80s Toyota Crown S110. He added another row of seats where the trunk used to be and at the rear he replaced the taillights with a set of a Nissan Skyline KPGC10 GT-R! A fridge is placed where the front passenger seat used to be. And I did spot a fax machine in it to make it a real VIP car while a 24cm steering wheel and a tsurikawa dangling from the ceiling to finish it off as a true bosozoku car! 😉
Fortunately enough I did manage to find two pictures of this car which were taken at the Massuru meeting in 2005:


Bosozoku style Celsior VIP car by Daisuke Shouten
Then they just pick up this girl, asking if she would like to have a ride in it. Damn, even with a bippuzoku car you can pick up girls without any trouble!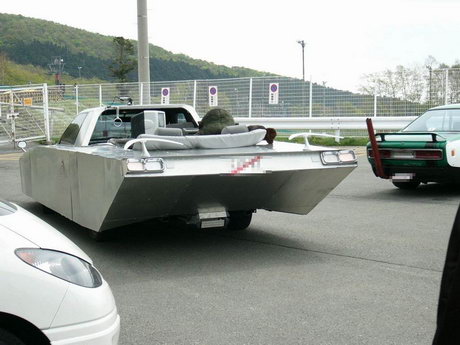 Bosozoku style Celsior VIP car by Daisuke Shouten
It is also really funny when they meet up with this limo driver at 7:53. The limo driver also drives a Toyota Celsior and can't believe that the car underneath is the same! And they also get a lot of respect from the kyusha style GX61 Cresta driver at a traffic light!
Thanks to White_Raven for finding this video! 🙂

by banpei with