Last friday we featured a video of an almost perfect Tomica Skyline RS Super Silhouette immitation. After a wild goose chase I managed to find some pictures of this wonder: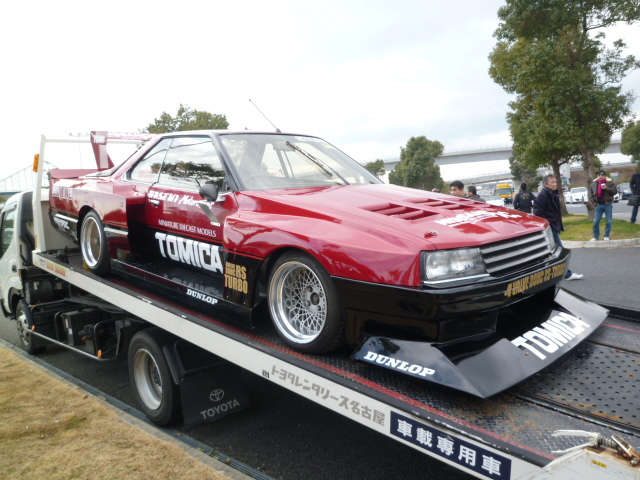 Perfect Tomica Skyline RS immitation
And believe it or not, this picture was actually taken at a Porsche meeting in Nagashima!!
On this picture while unloading the car you can see its profile a bit better: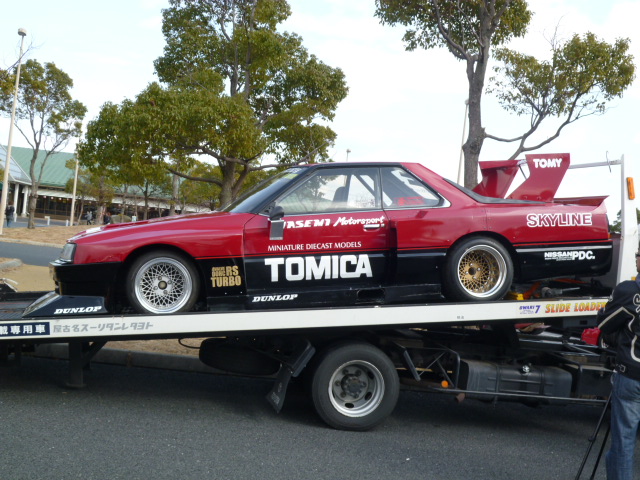 Perfect Tomica Skyline RS immitation
If you pay good attention and compare it to this picture of the real car (posted before here) you can see that my remark was a bit off: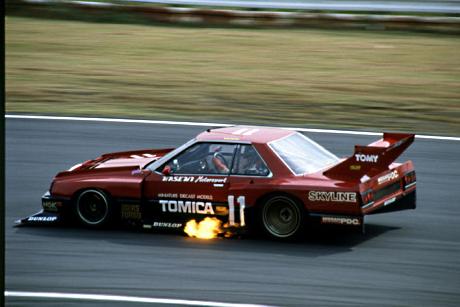 The real Hashemi Tomica Skyline RS Super Silhouette
I remarked that the wheels were too small, but that is not the case: the real one appears to have a much higher roofline. This was done to comply to the rules of Group 5 which required to retain the roofline of the car. Other parts were allowed to be altered as long as the silhouette remained the same. Hence the lowered bonnet, fenders and trunk.
Another difference are obviously the headlights and lack of hoodfins: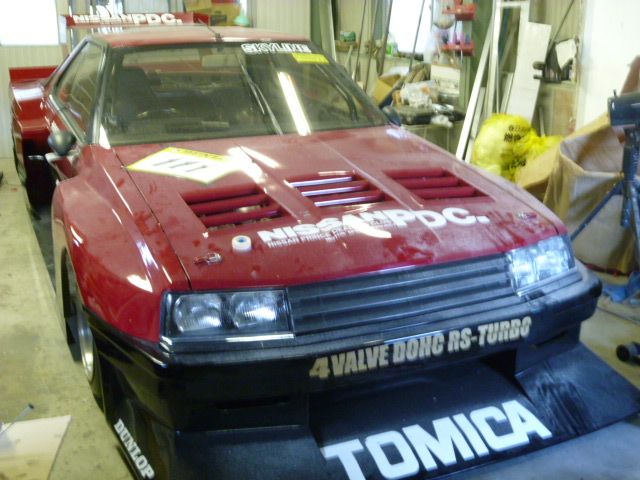 Perfect Tomica Skyline RS immitation
This picture was taken inside Hide's garage.
The rear is a copy of the early model: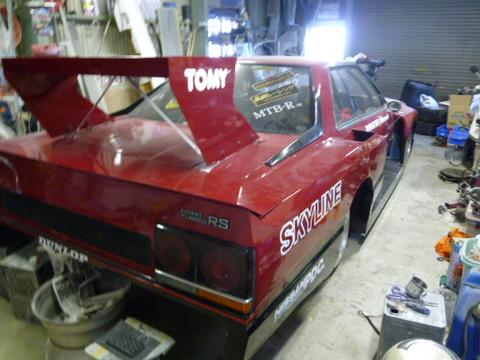 Perfect Tomica Skyline RS immitation
But since there are so little pictures of the rear of the car it can only be guessed that it is correct…
I have no idea what is under its hood, but I don't think you will find a LZ20R under it. Most probably a FJ20ET…
I said it is a perfect copy in the title, but that is obviously not entirely correct. However it is definitely the closest to the real thing!
Found at [No custom no life]
(If you continue to read there you will find he is creating a RX7 SA22 super silhouette copy!)
by banpei with
At first I was a bit surprised by this TAS 2011 videoNew Years video: was it the real thing? One second later I discovered it was almost real. Can you spot the difference?

Only the fender and wheelsize are smaller than the original! Nice copy!
Edit: Not TAS2011, but at a New Years meet
by banpei with
A month ago I posted a R31 Silhouette in the exhaust of the week. Last week All Japan Express blog posted some more pictures of it: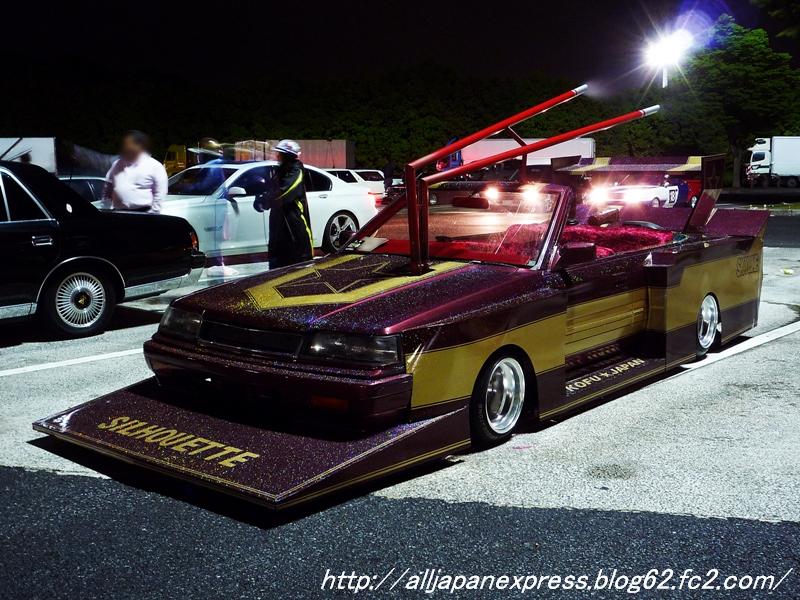 Exhaust of the week: R31 silhouette
These night shots make the flakey paint come out much nicer than the shots from the Nagoya Classic Car Show!
Backlit Silhouettes rule: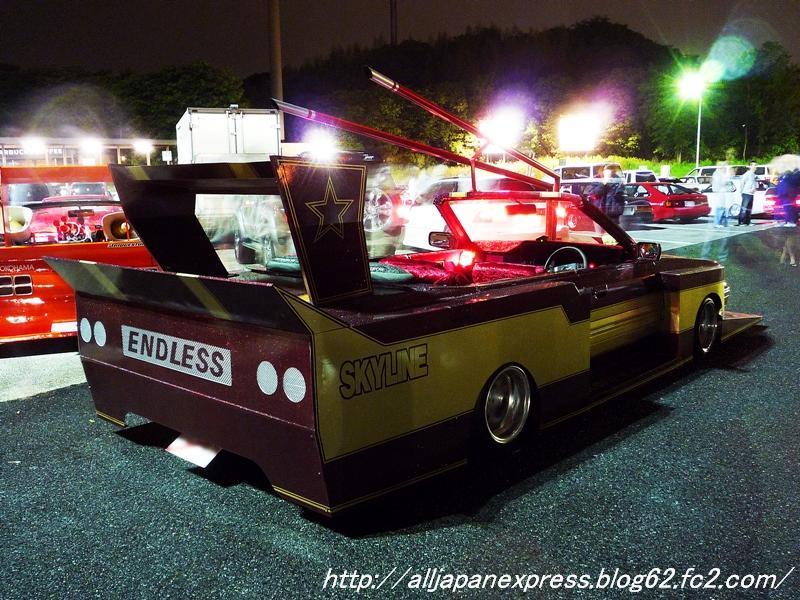 Exhaust of the week: R31 silhouette
Yum yum yum!
by banpei with
This Heros 79 Crown is one of the best looking Crowns I've seen so far! Its wicked styling includes everything: big lip, oil cooler, hood fins, ultra wide boxy Super Silhouette fenders with deep dish SSR Mk 1s in them, big double spoiler and of course four skyscraping exhaust pipes at the rear!
The image may not be meant for widescreens, but it is surely a great wallpaper for your desktop if you center it!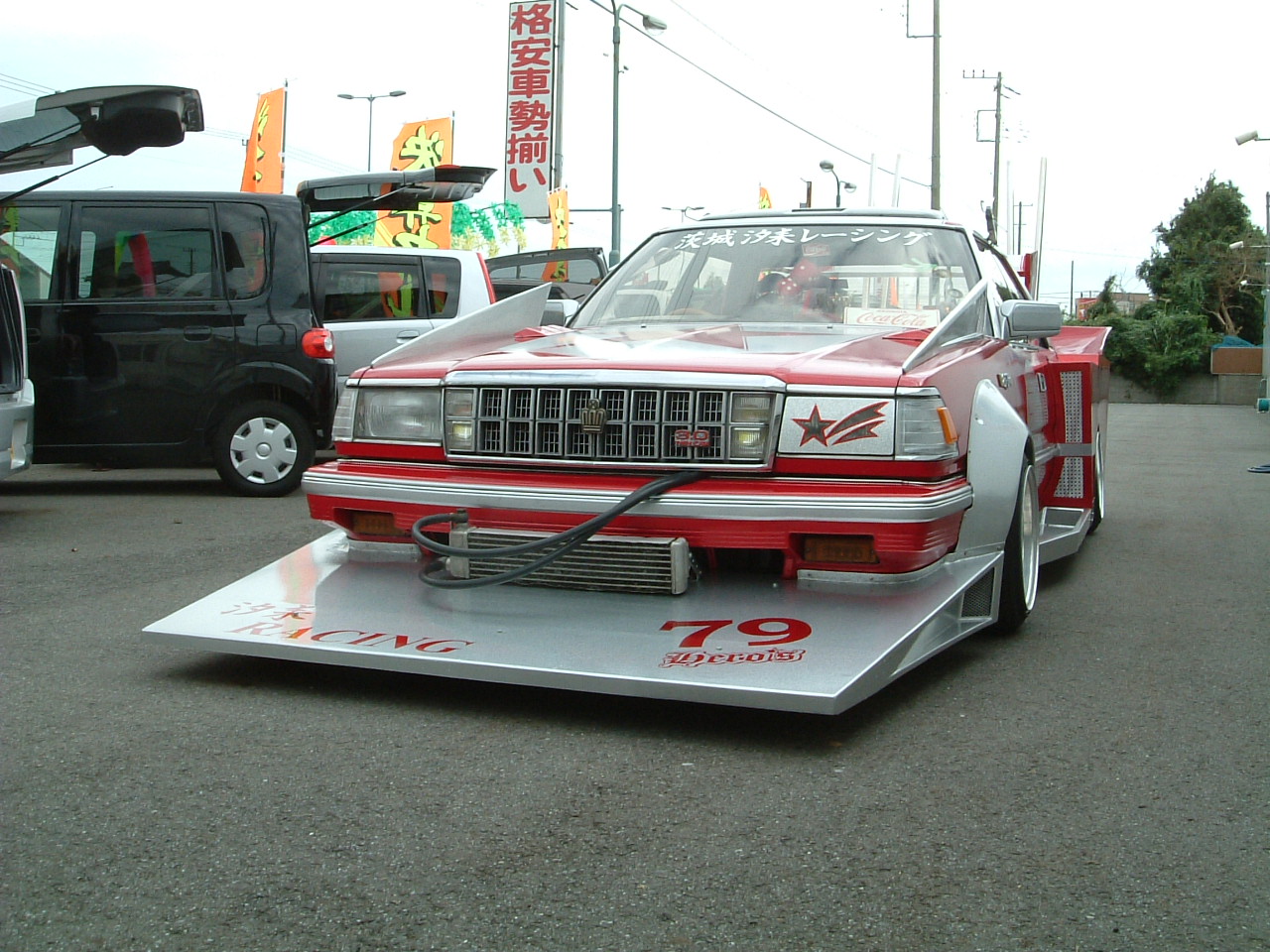 Bosozoku style wallpaper: Heros 79 Crown Number One MS125
Right-click here to download or set it as your wallpaper!
by banpei with
Back in the late 70s and early 80s the Super Silhouette race cars featured big wide fenders, big wings to create more downforce and wild paintschemes to attract attention. Of course this influenced the people on the streets as well, applying the same wild modifications on their cars themselves.
More interesting is this video from 1984 on Tsukuba where another Grand Championship race is preceded by a stock car race: most cars look like the bosozoku styled cars of that era!

Especially the Cedric 430 (fighting the big Pontiac Firebird) and the Mazda Luce Legato are very typical examples here. Naturally they were modified in the same manner as the Super Silhouette to squeeze more grip out of that bulky stock car body!
by banpei with