Some might say it is blasphemy to put the Laurel C130 saloon headlights on a Kenmeri Skyline C110 (especially if it is GT-R styled), but I think it actually might is a fresh way of saying you like best of both worlds. 😉

Picture found in Ka Ry's photostream at Flickr. (Again: definitely worth browsing through his streams!)
by banpei with
I do see more and more of these X-1R tail light swaps nowadays so could that mean someone in Japan found a buried treasure chest with unused stock of Cherry X-1R tail lights?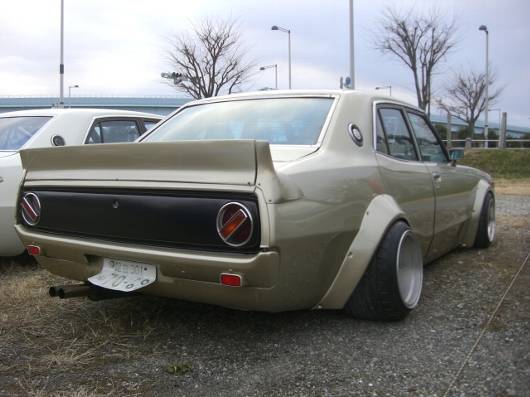 Or could it be that someone is reproducing them?
Also note that the rear door handles have been removed on this Yonmeri Skyline!
by banpei with
Shakotanbugi was this week present at the Old Car New Year 2012 meeting in Awaji Island (near Kobe) and he shared a lot of videos on Youtube!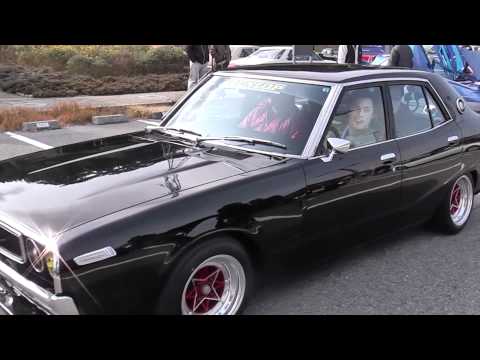 Various kaido racers were present. Take for instance this Cresta GX71 with Falken livery:

Or this Kenmeri Skyline:

Also watch this overview video:

Note the car at 0:30. Is that a real 2000GT convertible or just a beheaded one?
Direct links to videos: Cresta GX71, Kenmeri Skyline and Overview
by banpei with
Amazing what you can do with a Kenmeri Skyline, Hakosuka Skyline, Fairlady Z, some photoshop skills and fooling around with different JDM styles:

I especially love the Grand Champ Hello Bosozoku style! 😉
Direct link to video: Japanese classic car Skyline Ken?Mary ???? JDM ?? illustration
BTW: this is a crosspost with Banpei.net
by banpei with
Okay this sharknosed Skyline C110 is by far not as exciting as the roofchopped Mark II GX71 by Tijs Lochbaum, but it is cool that such a thing even gets sold commercially!


Headlights and taillights are working and for a mere 980 yen (12 dollar) it can be yours!
Found at sharknose Skyline C110 RC car
by banpei with